Annual Review — 2017
April, 2018

Ģirts Zeidenbergs

Andris Padegs
Dear Members and Supporters of TILTS!
This is a review of our activity in 2017, along with information about upcoming projects.
This is the year in which Latvia is celebrating its centennial, when we look back on the time that Latvia proclaimed and fought for its independence. A hundred years is longer than any individual can remember. Events a hundred years ago belong to history, and we learn about them from history books. But soon we will be celebrating another anniversary. This year marks 50 years — half of 100 — since the idea for our organization was conceived and 49 years since the forerunner of TILTS was founded. And that does not seem at all that long ago!
Latvians arrived in Poughkeepsie in the state of New York as DP's ("Displaced Persons") in 1949-50, with about 200 of them settling in the area (see the article "Latvians in Poughkeepsie" elsewhere in this issue). The largest employer here was IBM, which in the early 1960s was growing very rapidly and attracting engineers and programmers, many of whom were of Latvian extraction. This expanded Latvian community was able to organize a large-scale event for the general public at Vassar College to commemorate the 50th anniversary of Latvia's declaration of independence. This celebration was widely advertised and well attended. We served our guests traditional Latvian foods such as pīrāgi, we exhibited traditional Latvian jewelry, and we informed our visitors about Latvia's achievements during its period of independence and about the subsequent Soviet occupation. The public response was good, and the event was written up in the local press. After such a successful gathering, not wanting to lose the momentum displayed by the energetic and enthusiastic organizers, we decided, at the beginning of 1969, to form the Poughkeepsie Latvian Association.
Initially, our scope was mainly local — to meet the social needs of Poughkeepsie's Latvian community. Slowly, our activity spread to a wider geographic area, encompassing the Hudson Valley down to New York City, so that in 1988 we changed our name to "The Hudson Valley Latvian Association." As such we organized annual celebrations of Latvian independence day as well as various cultural events. We also actively defended Latvian interests — in demonstrations against communism, letter-writing campaigns and the preparation of radio programs about Latvia.
Our association always felt that the maintenance of Latvian consciousness required a knowledge of our roots, and thus we began to explore informal contacts with Latvians in Soviet Latvia as early as the 1980s, a time when such contacts were not sanctioned by many in the exile Latvian community. The first visits of émigré Latvians to Latvia revealed how important these contacts were for strengthening the morale and hopes of Latvians living under Soviet rule. In order to reflect more formally our association's character and our new goal of cooperation with Latvia in the field of culture, in November of 1993 the association changed its name to "The Latvian Cultural Association TILTS," or TILTS, for short.
We thank you for the interest and support you have shown in the past and ask that you continue to support TILTS in our efforts to promote and maintain Latvian culture and identity both here, outside of Latvia, as well as in Latvia itself.
| | | |
| --- | --- | --- |
| | Ģirts Zeidenbergs | Andris Padegs |
| | TILTS Chairperson | TILTS Executive Vice Chairperson |

Marcis Voldiņš
Theater
The Valmiera Drama Theater's tour with Harijs Gulbis's play Medību pils (Sept. 8 — Oct.1, 2017) included 14 Latvian communities: Washington, New York, Priedaine, Boston, Toronto, Cleveland, Detroit, Kalamazoo, Chicago, Minneapolis, Portland, Seattle, San Francisco, and Los Angeles. Jānis Znotiņš directed, and the cast included Inga Apine, Māris Bezmers, Inguss Kniploks, Kārlis Neimanis, and Baiba Cēsniece.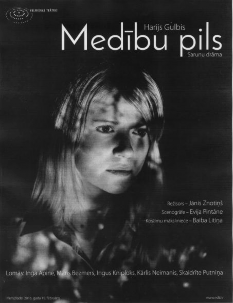 The play was written in 1966. A mother (Anna) and daughter (Lauma) are living in isolation in the woods in their "Hunters' Castle" (Medību pils). Lauma has abandoned her dream of
college in Riga to help her mother at home. Into the lives of these women come three men: Arnis, a young lumberjack, and two tourists from Riga — Egils and Indulis — who show up one winter night asking for a place to stay overnight.
Meeting these men, the inspirational late-night conversations with Egils, the romantic feelings engendered by these encounters and the subsequent love letters make Lauma once again dream about studying in Riga. These dreams seem real and possible, and so Lauma decides to change her life and "conquer" the unattainable city.
But, along with the feelings of love, come complications, as the address that Egils gives Lauma is really the address of his friend Indulis. The first act dealing with how the young people become acquainted and are drawn to each other is interesting and flows smoothly, but the pace slackens somewhat in the second act as the conflicts are resolved.
With 14 performances this was one of the longest theatrical tours that TILTS has organized. It was a coast-to-coast tour, including most Latvian centers, with the
exception of Florida and some smaller communities in the Midwest. Total attendance was 984, with the largest number of theater-goers, as usual, in Toronto — with 120. The tour was organized by Marcis Voldiņš.
The tour received financial support from the Latvian Foundation, whose members voted a grant of $10,000, and from ALA ($5,000), so that the tour, with a total budget of $34,250, had a shortfall of only a little over $1,000.

Dace Aperāne
Classical Music
Dāvis Sliecāns and Aleksandrs Kalējs at the XII International Master Classes for Young Latvian Musicians in Sigulda (2016) accepting the Knuts Lesiņš Award
Two young Latvian musicians, violist Dāvis Sliecāns and pianist Aleksandrs Kalējs, performed in a series of concerts in the fall of 2017 organized by the Knuts Lesiņš Award Fund and the Minnesota Association of Latvian Organizations, with a grant of $750 from TILTS and in cooperation with the Latvian Association of Detroit and the Latvian Concert Association of Cleveland.
The musicians played in Minneapolis on Sept. 29, Detroit on Oct. 5, and Cleveland on Oct. 7, performing works by D. Aperāne, A. Kalējs and other composers. The audiences were enthusiastic about the brilliant, inspired playing by the musicians. Dace Aperāne was in charge of the tour.
The initiator of the Knuts Lesiņš Award Fund, the late Dr. Jānis Robiņš, was a member of the board of TILTS. The award is presented to young musicians at the International Master Classes for Young Latvian Musicians. The recipients' appearances in Minneapolis and elsewhere in
the U.S. were financed by the Lesiņš Fund and TILTS, along with the organizations mentioned above.
Latvian violinist Ruta Kroumovitch and her husband Alvaro Gomez performed together with pianist Rūdolfs Ozoliņš in two concerts: in Cleveland on May 6 and Minneapolis on May 7, 2017. These outstanding artists played works for two violins, for violin and piano, as well as for solo piano, by T. Ķeniņš, P. Vasks, M. Zariņš and other composers.
Anda Sūna Cook, reviewing the violinists' interpretation of the third part of J. S. Bach's Sonata in C Major (in Laiks, June 3-9, 2017), wrote, "...we have to admire how closely the violinists are attuned to one another." And about the concert's finale: "The enthusiastic applause would not stop." The reviews from Minneapolis were equally positive about the high level of musicianship of all three performers.
The concert series was organized by Dace Aperāne in cooperation with the Latvian Concert Associations of both Cleveland and Minneapolis, with TILTS contributing $1,053.

Tija Kārkle
Ethnographic Music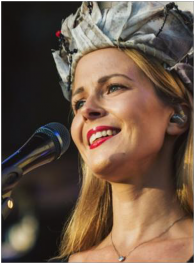 Asnāte Rancāne
 — voice, violin,
kokle
, singer and arranger of folk music. Very actively involved in folk music since childhood. Currently the leader and creative engine of the very popular folk music group "
Tautumeitas.
"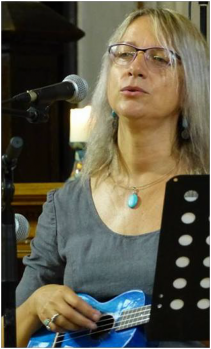 Zane Šmite
 — voice, percussion. One of the pioneers of professional folklore research, instructor of folk music at the Latvian Academy of Music. Continues to study and develop traditional methods of singing, as well as to interview those traditional singers of Latvian folk songs still living in various parts of rural Latvia.
Ivars Cinkuss
 — voice, percussion, professional conductor and singer, Latvian Song Festival conductor. As a conductor has worked with Latvia's major choirs and orchestras.
"TRIO Šmite, Rancāne un Cinkuss" performed in eight Latvian communities during November, 2017: Minneapolis, Chicago, Kalamazoo, New York, Boston, Cleveland, Toronto and Priedaine (in the last two locations the group's concerts were part of the local Latvian independence day commemoration). TRIO is a group of professional musicians and friends that has found its own way of cultivating and performing Latvian folk music. For this concert tour, the group came to North America with a program especially created for November, a month that is particularly resonant, historically and spiritually, for Latvians:
"The month of November, wrapped in a shroud of fog and rain, encouraged in earlier times the members of the traditional Latvian farmstead to gather inside by a fire. And wherever there are people, there are stories and songs. On the occasion of these concerts we will gather together to honor in song our soldiers. Let us remember those who fell in battle. Let us pay respect to their bravery, looking death in the face. And let us sing the delicate songs about those who returned from war and began a new life in their native land."
The audiences were receptive, very satisfied with the concerts, as were the artists themselves. In the words of Zane Šmite, "We are happy, satisfied and tired. We met old friends and made new ones. Wonderful people provided for us. And therefore we are even more pleased that our program spoke to them — moved them to tears, made them think, and brought them joy."
The concert tour was supported by the Latvian Ministry of Culture (through PBLA) with a grant of $1,088 and by ALA with $3,500. TILTS had to cover only a $200 deficit in the budget. Total attendance was about 650, of which 225 was in Toronto. The tour was organized by Tija Kārkle.
Film
With a contribution of $1,007, TILTS supported the participation of film director Renārs Vimba at a showing of his award-winning film "Mellow Mud" at the European Film Festival, which took place at the Egyptian Theatre in Hollywood. This was in cooperation with Pauls Berkolds, who arranged additional support from the Southern California Latvian Concert Association and the Southern California Latvian Association.
These two associations arranged a reception on May 13 at the Latvian Center, where Mr. Vimba talked about his and other Latvian films. According to Mr. Berkolds, "The meeting with Mr. Vimba was very good. He had a lot to say about his work in the film industry in Latvia. Almost all attendees were present also at the showing of his film."
LNT Ceļā uz mājām
Right after the Latvian Song Festival in Baltimore, the Latvian National Theater presented the play Ceļā uz mājām (On the Way Home) in Toronto, Boston, and Priedaine. TILTS supported this minitour with $900. Jānis Grigalinovičs-Leja helped arranging the tour.

Laila Robiņa
Exceptional Young Artists Fund
The Exceptional Young Artists Fund, under the leadership of Laila Robiņa and with the help of Baiba Pinne and Anna Ķepe, in 2017 made the following award:
$2,000 — Evita Pehlaka, soprano.
The paperwork for this expense had not been submitted to TILTS's treasurer in 2017, and hence the expenditure does not appear in the 2017 financial overview.
TILTS is very grateful to the following generous contributors to the fund:
Dace Aperāne — $300
Jānis Bībelnieks — $500
Jonathan & Anna Haas — $350
Laila Robiņa — $1,500
Washington (DC) Latvian Organizations — $500
The current balance of the fund is $3,150.00. Contributions to the Fund can be made by sending a check, written to "Latvian Cultural Association TILTS, Inc.", to TILTS, c/o Laila Robins, 241 Central Park West Apt. 14H, New York, NY 10024.
In its lifetime, the Exceptional Young Artists Fund has awarded a total of well over $150,000 to over 30 young artists. Awards to young artists are made only from contributions donated specifically to this fund.
The Music Camp Fund
This fund supports Master Classes of the International Latvian Young Musicians' Camp that takes place every second year in Latvia. The last event was in 2016 at the Sigulda School of Arts Baltais Flīģelis, and TILTS awarded $8,000.00 to this class.
TILTS is very thankful to the following 2017 generous contributors to the Music Camp fund:
Anita Kupriss and Richard Douglas — $2,500
Dace Aperāne, with help from Anda Sūna Cook and Gunta Semba, manages the fund. The current balance is $7,000.
Contributions to the Music Camp Fund can be made by sending a check to TILTS's treasurer, written to "Latvian Cultural Association TILTS, Inc.", with a note explaining its purpose.
Information Project
To help counteract Russia's negative political propaganda in Latvia, TILTS at its 2015 annual meeting established a project for disseminating information whose aim is to seek out relevant articles about important events and points of view by experienced international journalists, analysts and scholars and to send these articles to governmental leaders and the media in Latvia.
To this end TILTS subscribes to The Financial Times, The Economist, Stratfor Global Intelligence, Foreign Affairs, the Latvian magazine Ir, and PBLA Ziņu Apskats (PBLA News Summary). In addition, a number of volunteers regularly follow The New York Times, The Wall Street Journal, The Washington Post, Time (U.S.), The Times (U.K.), The Guardian, Reuters, the Canadian papers Globe and Mail and Ottawa Citizen, various think tanks and some other sources.
This information is disseminated using several distribution lists:
The "short" list, with some 400 addresses, includes officials of Latvia's Defense and Foreign Affairs ministries and some other members of the Government, some members of the Parliament, the newspaper Latvijas Avīze, the news sites Delfi and medusa.oi (both of which have Russian editors), 20 other media contacts, some nongovernmental organizations, the Latvian press outside of Latvia, and various individuals from PBLA, ALA and TILTS. This short list receives the most significant articles by Western commentators a couple of times a week.
The "medium" list, with about 900 addresses, including about 400 in the governmental structure of Latvia, receives mailings less frequently.
Recipients in both lists inform us of changes of address; this, as well as other responses, indicates that the information is appreciated and valued. Occasionally, information is sent out to a much larger list, but this is used less frequently because of the labor involved.
Since the start of the project, TILTS has spent a few thousand hours on the maintenance of these distribution lists, since invalid addresses need to be deleted after each mailing, and, on occasion, recipients ask to have their names removed. Much time is devoted to expanding the lists as well.
To cover the expense of subscriptions, translation and copyright payments the project relies on fund raising. Donations can be sent to TILTS's treasurer, with a note explaining the purpose of the gift. Checks should be made out to "Latvian Cultural Society TILTS."
Expenses for subscriptions in 2017 were $639, and the fund's current balance is $1,461. Ģirts Zeidenbergs and Andris Padegs are in charge of the project.
Support
In 2017 TILTS's board awarded a total of $3,000 in financial support, as follows:
$500- Support to the literary journal Jaunā Gaita in memory of its former editor and TILTS board member Rolfs Ekmanis.
$500 — Support to the non-profit organization DELNA, which is fighting corruption in Latvia.
$2,000 — Support to the International Young Latvian Musicians' Camp — Master Classes, which takes place every two years in Latvia.
Other Events of 2017
At the end of 2017, 68 people had joined ALA as members of TILTS, including 6 amber, 8 gold and 53 life members.
Ints Dzelzgalvis and Dace Ķezbere were TILTS delegates to the ALA 2017 congress in Chicago.
Dace Aperāne, Ārija Kats un Baiba Pinne represented TILTS on the Council of New York Latvian Organizations.
The annual TILTS membership meeting took place on April 12, 2017 at the Philadelphia Society of Free Letts building in Philadelphia. A board meeting preceded and another followed the membership meeting. The membership elected 45 people to the board — 42 were re-elected and three were new.
In three shipments a total of 373 boxes, with a weight of 5,282 kg, of books and periodicals collected from Latvian homes were shipped by TILTS through the Latvian American Shipping Line to the Latvian National Library in Riga for distribution to schools and libraries (Andris Padegs).
Latvians in Poughkeepsie
The information for this article comes from conversations with former or current Poughkeepsie Latvians Gunars Ozols, Mudīte and Andrejs Prāmnieks and Ruta Rone, as well as from other sources and my own (Andris Padegs) personal memories.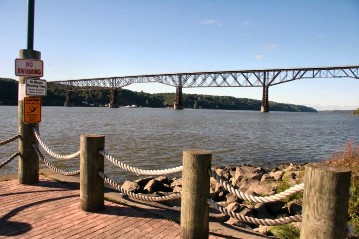 Poughkeepsie railroad bridge, which burned out in 1974.
Poughkeepsie is located on the banks of the Hudson River about 70 miles north of New York City. The name "Poughkeepsie" comes from the Wappinger Indian language and means 'an abode covered with reeds near a small body of water.' This refers to a small river that flows into the Hudson south of today's city of Poughkeepsie. The earliest European settlers were the Dutch, whose historical presence is evident in local place names, such as Peekskill, Fishkill, and Spackenkill, where "kill" is from the Dutch "kil" meaning "a small river."
Latvians arrived in the Poughkeepsie area in 1949-50 as displaced persons after World War II and have left their own linguistic footprints. Among those who settled here some were builders, and their legacy is seen in place names such as Voldemar Drive. But there are earlier traces of Latvians as well — to the north of Poughkeepsie is a mountain named "Riga," and during the American Civil War Latvians had lived here and worked manufacturing cannons.
Poughkeepsie is known for its bridges across the Hudson river. The railroad bridge, which was opened in 1889, was at that time the longest railroad bridge in the world, and during the Second World War up to 3500 cars crossed it daily. But the traffic gradually diminished, and when in 1974 a spark from the trains brakes ignited the wooden ties it was not economical to restore the burned-out bridge. Proposals were advanced to demolish it or build a shopping center on it, but finally with a $30 million grant it was repurposed and in 2009 opened as pedestrian bridge — Walkway over the Hudson.
The Walkway is 1.28 miles long and 212 feet above the waterline. Now it is the longest pedestrian bridge in the world. Its popularity has increased tremendously — in good weather it is crowded with walkers and bikers, it is included in marathons, and currently new pavilions are under construction on both ends. The Walkway is a state park.
The first Latvian church service in Poughkeepsie was held on December 2, 1951. A group for worship was organized in 1952, becoming a congregation in 1957. The first minister was Dean Jēkabs Ķullītis, then Rev. Arvīds Anšēvics, from 1958 to 1976, with his wife serving as organist. Dean Kristaps Valters followed, and, later, Kārlis Kronis, Lauma Zušēvica and Laris Saliņš came to Poughkeepsie to conduct services. The congregation had as many as 120 members. When the post-war DP's arrived, there were Latvians from earlier migrations already living in this area, but it is not known whether any of them became members of this congregation.
The first president of the board of the congregation was Edvards Līcis, then Arvīds Ziemiņš, and, later, Gunārs Ozols, Grīnberga and Andrejs Prāmnieks. Shortly after its founding, the congregation began publishing a newsletter, Avots, whose first editor was Visvaldis Šmits, followed by Edvards Līcis, Biruta Ozola and Mudīte Prāmniece. A Latvian school was also organized, led by Alma Šmits. Later under the auspices of the congregation M. Prāmniece, B. Ozola and Ilga Ziemiņa also worked in the school. In all about 20 pupils attended the school, receiving various commendations on an East Coast regional level. Soon a youth group was organized, led by Elmārs Zirnis, which, with interruptions, continued to be active for a number of years. In 1977 a choir was organized under the direction of Artūrs Palkavnieks, who was succeeded by the young and energetic conductor Māris Kristapsons. Over the years the choir had 27 singers. At intervals Poughkeepsie also had a Latvian folk dancing group, led by Mudīte Prāmniece, Zaiga Klīmane, Ilga Ziemiņa or Kaija Prāmniece; it participated in various song festivals. And for a time there was a youth choir led by Lalita Saliņa, who was then studying at Vassar College.
Immigrants to America typically form "colonies" — the first-comers, once settled, sponsor relatives and friends, thus coming together to the same town. Working hard, they then recommend their friends and acquaintances to their employers. In this way people of the same origin often tend to be concentrated in the same work place. In the early years, Latvians in Poughkeepsie were concentrated in the local sewing factory, a cigar factory and in the meat industry. Later many Latvians worked as custodians and cafeteria workers at Vassar College. Some found work in the dairy business or the building trades.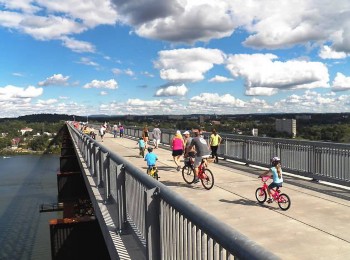 At the time it was completed, it was the longest railroad bridge in the world; now it is the longest pedestrian bridge in the world.
In and around Poughkeepsie there were several psychiatric hospitals that enabled doctors from Latvia to work in their profession. Among them were Elvīra Buša, Viktorija and Kristaps Mailepors, Arnolds Jurjěvics, Leo Sūrītis and perhaps others. Ivars Sproģis opened a practice in ophthalmology in Poughkeepsie after receiving his medical training in the United States, and his patients remember him for the jokes he would tell during their eye examinations.
As elsewhere in the greater New York area, a number of Latvians found success as contractors and developers in the construction business: Voldemārs Ivanovs, Rūdolfs Krievs, Nikolajs Ukrijs, Gunārs Vilinskis, as well as the brothers Jānis and Ādolfs Ronis and others. Jānis Aperāns was in charge of the Poughkeepsie operations of Jānis Rīsbergs's major construction enterprise. Later, J. Aperāns, together with Jānis Melgalvis, Andris Padegs, Māris Stűrāns and Ģirts Zeidenbergs, formed and operated their own construction company, "Modern Environment." The impressive color photos of photographer Augusts Upītis would regularly illustrate the annual reports of Central Hudson, the local electricity and gas company, highlighting either local landscapes or the company's latest technology.
Toward the end of the 1950s and during the 1960s, when IBM was expanding rapidly, many Latvians who had received their education in the U.S. found work there, including Ints Dzelzgalvis, Vilnis Klīmanis, Jānis Melgalvis, Gunārs Ozols, Helmārs Ritters, Māris Stűrāns, Jānis Zeidenbergs, as well as Andris Padegs un Ģirts Zeidenbergs. This group formed the core of what would later become the Latvian Cultural Association TILTS. The history of TILTS is recounted in a lecture delivered by A. Padegs at the Latvian National Library in Riga during the October 2014 conference "Latvia Outside of Latvia."
The Latvian population of Poughkeepsie reached its peak of some 200 in the 1960s. Gradually it declined, and in 2008 the Poughkeepsie Latvian congregation decided to dissolve. Today — at the beginning of 2018 — there are about 20 Latvians known to be living in the area. Most are retired, many from IBM. Andrejs Prāmnieks owns his own landscaping business, and Juris Pupčenoks, who left Latvia during independence, is a professor of political science at Marist College. The family of Ivars and Sandra Slokenbergs have returned to Poughkeepsie after living in Latvia for ten years.
Events Planned
Currently TILTS is working on the following tours (no theater tour is planed for 2018):
A tour by the pianist Andrejs Osokins un vocalist Katrīna Gupalo took place in April, 2018, covering Boston, Cleveland, Minneapolis, Priedaine, Washington DC, Philadelphia and New York (Dace Aperāne).
A lecture tour by General Raimonds Graube, commander of Latvian Armed Forces, retired, is planned for 2018 (in locations marked with ? the date is not firm): Boston Sept. 7 (?), New York Sept 8. (?). Washington DC Sept. 9 (?), Philadelphia Sept. 11, Cleveland Sept. 12, Chicago Sept. 15, Kalamazoo Sept. 16, Minneapolis Sept. 23, Denver Sept. 24 (Ingrīda Erdmane). Gen. Graube has offered the following topics:

"Hybrid War and the Information Space". By trying to influence our thinking (and feelings) Russia is attempting to destroy our sense of values, our faith in the political system, our trust in the government. There is an ongoing attempt to win without the use of conventional military weapons. Latvia and the Baltic countries are particularly vulnerable.
"The Development of the Latvian Armed Forces". This broad topic can be split into subtopics: The challenge of self defense, The development of Zemessardze, The structure of and Latvian contribution to the collective defense (NATO, EU, ANO), The military cooperation between Latvia and the USA, The cooperation among the Baltic countries.
"The Defense of the Country and the Patriotic Foundation Namejs" — goals, challenges, accomplishments.

A tour by the ethnographic ensemble "Vilkači" is planned for 2018: Seattle October 11 (University of Washington), Portland Oct. 12, San Francisco Oct .13, Los Angeles Oct. 14, Minneapolis Oct. 16, Chicago Oct. 20, Kalamazoo Oct. 21, Detroit Oct. 24 (this date is not yet firm), Cleveland Oct. 26, Toronto Oct. 27, Washington DC Oct. 28, Priedaine Oct. 30, Boston Nov. 2, Catskills Nov. 3 (as part of ALJA Fall Weekend) (Tija Kārkle).
Finances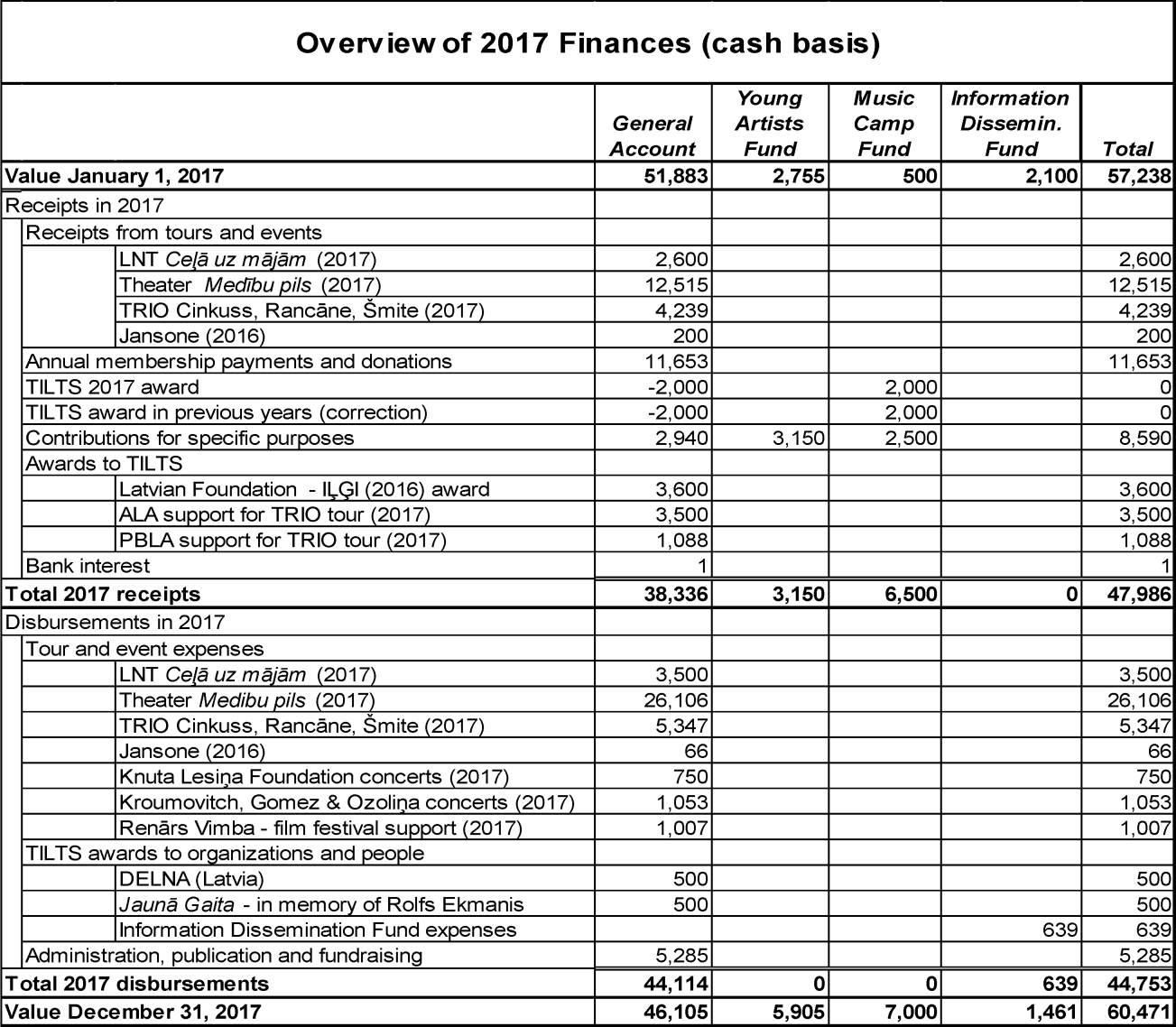 TILTS is particularly grateful to the following supporters who have contributed to the general account or special projects $1,000 or more:
Anita Kupriss and Richard Douglas
Laila Robiņa

Juris Baidiņš
Membership
Our work depends largely on your contributions. In the past we planned our cultural events so that they would pay for themselves. This has become impossible, as the size of our audiences keeps shrinking and the expenses for artists from Latvia keep rising. We also need contributions for our projects associated with support of education and other cultural activities.
Please help us carry out our programs and become a member of TILTS! Donations for TILTS membership start at $15.00. We have not increased membership dues so that the amount of the dues would not be an obstacle for those with limited resources. Make the check payable to "Latvian Cultural Association TILTS, Inc." and forward
in the USA to: Treasurer Juris Baidiņš 104 Windon Drive, Wilmington, DE 19803
in Canada (in Canadian dollars) to: Anita Liepiņš, Box 21131 RPO Orangeville Mall, Orangeville, ON L9W 4S7 Canada
In the USA, donations to TILTS are tax-deductible. TILTS board members do not receive any compensation for their services.
In 2017 TILTS received a total of $14,593 in membership fees and general contributions from 279 members, the average contribution was $52.30 per member.
How Efficient is TILTS?
The charitable organizations of America continually bombard us with requests for contributions. But they do not spend all their money on their charitable work. Some of them spend most of the money they collect on administration and fundraising, paying high salaries to their executives. The charities can be considered efficient if 80%-90% of the funds are spent on the claimed charitable activities, with only 10%-20% on administration and fundraising.
The overview of the finances of TILTS [above] gives an idea of the efficiency of TILTS operations. In 2017 TILTS expenses were $44,753; this is the sum that passed through the TILTS bank account. However, some of the cash flow does not show up in the financial summary. In accordance with prior agreements, some of the money that is due TILTS for arranging the tour is paid by the local organizers directly to the performers to cover their travel expense and honorarium. If all TILTS expenses for Medību pils and TRIO tours are included, the total TILTS expenses are $67,050. The expenses for administration, fundraising and publishing this annual report were $5,285, which is 7.9%.
Thank you!
Pēters Vecrumba is our Webmaster — he designs the graphics for the TILTS web page www.tilts.org and updates its contents. Thank you, Pēters!
Thanks to all who have helped in the past and are helping now in mailing our annual report.

Thanks to the TILTS Audit Committee, which is helping our treasurers Juris Baidiņš and Jānis Melgalvis take care of TILTS books:

Pēteris Āns
Jānis Bebris
Kaspars Krēsliņš
With Gratitude, the Board of the Latvian Cultural Association TILTS:
On April 12, 2017 45 persons were elected to TILTS Board:
37 USA, 7 Latvia, 1 Canada
Mārtiņš Andersons
Dace Štauvere Aperāne
Gundars Aperāns
Juris Baidiņš
Valdis Bašēns
Pauls Berkolds
Edgars Bērziņš
Valdis Bērziņš
Jānis Cigusis
Anda Cook
Ints Dzelzgalvis
Ilze Gotfrīda
Astrīda Jansone
Amanda Jātniece
Benita Jaundāldere

Līga Jēkabsone
Tija Kārkle
Lauma Upelniece Katis
Ārija Kats
Anna Ķepe
Dace Ķezbere
Brigita Klauss
Daila Krastiņa
Laris Krēsliņš
Matīss Kukainis
Anita Liepiņa
Maija Medne
Jānis Melgalvis
Ilmārs Mežs
Andris Padegs

Ilze Pētersone
Baiba Pinne
Zinta Pone
Ināra Reinis
Andris Ritums
Laila Michelsone Robiņa
Regīna Rūsiņa
Gunta Puzule Semba
Laimonis Siliņš
Ruta Krūze Strobele
Jānis Students
Normunds Vīksne
Marcis Voldiņš
Ģirts Zeidenbergs
Astra Pētersone Zemzare
This review has been prepared by Andris Padegs, English translation by Valdis Bašēns.