Annual Review — 2016
April, 2017

Ģirts Zeidenbergs

Andris Padegs
Dear Members and Supporters of TILTS!
This is a review of our activity in 2017, along with information about upcoming projects.
One of the most bothersome tasks in organizing theater tours is applying for U.S. visas for the actors.  It requires filling out long forms, gathering supporting documentation, and having to spend months in uncertainty waiting for a decision.  Up to now, in the end, we have always been successful, although last year the actors received their visas only minutes before their plane departed.  This year, however, there was no happy ending.  The sad tale is recounted in the theater section below.
We apologize to all the local organizers in fourteen Latvian communities who had devoted so much time and effort on the preliminary arrangements for presenting "Kauja četrās sienās" (Battle within Four Walls), as well as to all those members of these communities who were looking forward to seeing this comedy,  and especially to the actors from Liepāja, who had to free their schedules, at work and home, to spend a month on tour in America.  Naturally, this cancellation meant financial losses for TILTS as well.
Now it appears that these actors were not the only ones to be denied entry visas by the U.S. Department of Homeland Security.  The same reason was given for rejecting actors from the National Theater of Latvia who were scheduled to perform Elliott Hayes's play Homeward Bound at this year's Latvian Song Festival in Baltimore (correction: according to the latest news, this rejection has been reversed, and the play Homeward Bound will be performed in Baltimore).  A. Padegs's article about the experience of TILTS with this denial of visas to actors appeared in a number of Latvian diaspora newspapers. Now, in connection with the denial of visas for the Baltimore Song Festival, the topic is being widely discussed in the press in Latvia as well.  Reader comments reflect a widespread  opinion that it is a mistake for the actors to request the proper visas — they should simply enter the U.S. as tourists, since tourist visas are easier to obtain.
It is tempting to take this approach. But TILTS has always taken the position that we cannot take on this kind of risk with professional actors who enter the U.S. to perform in publicly advertised events.  False statements in official declarations can lead to sanctions for the actors and can create serious obstacles for TILTS when organizing similar tours in the future.  Some years ago two actors had been granted their entry visas for a tour organized by TILTS on the West Coast.  One of them, en route to California, arrived in Minneapolis before he had the necessary papers in his hands, and, as a result, immigration officials, after unpleasant interrogation, immediately sent him back to Europe. TILTS had to cancel the tour.
We thank you for your support of TILTS and we ask for your continued support so that TILTS can continue its work of fostering Latvian culture and encouraging the maintenance of Latvian identity.
| | |
| --- | --- |
| Ģirts Zeidenbergs | Andris Padegs |
| Chairperson | Executive Vice Chairperson |

Marcis Voldiņš
Theatre
Fourteen Latvian communities in North America, starting with Toronto, were, in September of 2016, expecting to see performances of the play Kauja četrās sienās (Battle within Four Walls).  Unfortunately, the tour had to be canceled.  In brief, here is a summary of what is required to obtain permission for such a tour and why it was denied.
Battle within Four Walls is a play by Martin Walser, translated into Latvian from the original German by Astra Moore.  It is a comedy staged by Māra's Theater by director Māra Ķimele with two actors from Liepāja, Dace Makovska and Leons Leščinskis.  The play is about the domestic problems between a husband and wife who, after twenty years together, are finally forced to analyze and talk through what they have in common.  Marcis Voldiņš chose this play for a TILTS tour because it had received good reviews in Latvia and because it was suitable for both young and old audiences.  The play was particularly well suited for an American tour in that there were only two actors and very few props or sets.
 Actors intending to perform in theatrical productions, in order to receive a U.S. entry visa, must first seek permission from the American actors' union, certifying that the performances by the foreign actors will not take work away from local actors.  At the end of March, 2016, we received a letter from Actors' Equity Association stating that the union had no objections and that they understood that the intended performance would be "indigenous to Latvia and is, in fact, culturally unique."  This letter from the actors' union recommended that the actors receive an entry visa.
The next step is to submit an I-129 petition to the U.S. Citizenship and Immigration Services division of the Department of Homeland Security, requesting a P-3 visa for entry into the USA.  The petition is dozens of pages in length and requests very precise details about each scheduled performance, about those responsible for organizing each separate performance and about the actors. In early April, 2016, TILTS submitted the form along with a copy of the formal contract between TILTS and the actors, as well as other declarations, which were later supplemented with letters of support from ALA, PBLA and Latvia's ambassador to the U.S. Andris Razāns.  We also attached copies of reviews of the play that had appeared in the Latvian press, translated into English, as well as from the Latvian Association of Norway, where the play had also been performed.  We submitted the $325 application fee, and in June, when we had not yet received an answer, we paid an additional "premium processing" fee of $1,225. 
A response to this "expedited" process is supposed to come in two weeks.  On July 22, the Vermont center responded that the request had been denied because TILTS had failed to demonstrate that this theatrical performance would be "culturally unique."  Even though all the letters of support stressed the "cultural uniqueness" of the play and the performances, the immigration service maintained that, since the play is the work of a contemporary German author, it cannot be considered a part of traditional Latvian cultural values.
We submitted an appeal, explaining that our main goal was to provide an opportunity for Latvians to see a play performed in the Latvian language by Latvian actors.  The language is what gives the play cultural uniqueness. Often it is the case that we present plays reflecting traditional Latvian cultural values, but this time we had chosen a modern play because it could be more meaningful for maintaining Latvian cultural identity, especially among the younger generation, in that such a play shows that the Latvian language is not just something that is connected with times past, but is a living language and can be part of everyday life. The theme of this play is universal, and the nationality of the author is not important.  Presenting everyday domestic events in good Latvian enhances in younger viewers an appreciation of the application of the Latvian language.
This argumentation had no effect, and the petition was denied a second time.  Nor did a letter from the new Latvian ambassador to Washington, Andris Teikmanis, help.  We solicited the support of Michigan congressman Rep. Michael Bishop of the Judiciary Committee, but, again, to no avail.
And so the conscientious bureaucrats of the Department of Homeland Security "protected" fourteen Latvian communities from a Latvian theatrical ensemble that would have performed a comedy by a German author.

Dace Aperāne
Classical Music
A lecture tour entitled "My Musical World — in Words and Sound," by the eminent Latvian composer Ēriks Ešenvalds, from October 15th to the 23rd , included Cleveland, Minneapolis, Philadelphia, Boston and New York.  The talks, accompanied by slides and film, were an intriguing introduction to his large-scale works. The composer  particularly highlighted his Northern Lights Symphony, based on his expeditions to Arctic lands.  TILTS had financially supported this expedition.
Ēriks Ešenvalds's lectures were accompanied by choirs that sang his compositions.  In New York and Cleveland, the New York Latvian Choir performed, while in Minneapolis and Boston, mixed choirs were joined by the children of the local Latvian schools.  In Philadelphia conductor Gunta Plostniece combined three choirs—Latvian singers from Philadelphia's Latvian Baptist and Lutheran congregations, together with American singers from Westminster Choir College and the select choir of Springfield High School.
All of the lectures were well attended, about 75 at each event, with the exception of Cleveland, where 125 were in attendance, including Estonians, Lithuanians and Czechs.  This lecture tour was part of the Latvian Centennial program in the United States. The response, in person and in the press, to the lectures and to Ēriks Ešenvalds's choral music was very enthusiastic and helped to foster enthusiasm for the Latvian Song Festival in Baltimore this summer.
The tour was organized by Dace Aperāne, in cooperation with the local Latvian communities and the publisher of Ēriks Ešenvalds's music in England.  ALA provided financial support.
Concerts by the Theia Trio took place in Cleveland (April 16) and Minneapolis (April 17), with works by Jānis Mediņš, Jēkabs Mediņš, A. Piazzolla and P. Tchaikovsky.  Members of the trio are Aija Rēķe — violin, Daniel Dickson — cello, and Han Nah Son – piano. 
Both concerts were enthusiastically received.  "Sincere thanks for arranging the Theia Trio concert.  We truly enjoyed it.  It was an outstanding concert."- Maija Grendze, in Cleveland.  "I was delighted by the concert and, from speaking to others, I know it brought them delight as well.  I left the concert enraptured.  I hope to hear Theia again in the future. — Andris Vāpe (in Svētrīta Zvani, May, 2016). 
The tour was organized by Dace Aperāne, together with the Latvian Concert Societies of Cleveland and Minnesota.
Ethnographic Music
The renowned folklore group Iļģi performed concerts  November 12–20, 2016, in New York, Boston, Cleveland, Toronto, Philadelphia and Priedaine.  Except for Cleveland, these concerts were part of Latvian Independence Day celebrations.
Iļģi are the initiators of the postfolklore movement in Latvia.  They started in 1981 by visiting traditional singers throughout Latvia who were still alive, by learning their songs and how to play traditional instruments.  From the very beginning, however, they saw themselves as more than mere folklorists.  To them folklore provided an inspiration for creating new, original works.  The five-member ensemble, in its 35 years, has mastered the art of clothing old sounds and melodies in new forms, and they are now one of the best-known folklore groups in Latvia.  They all have beautiful, rich voices, and they all play one or more instruments:  the violin, accordion, kokle, guitar, mandolin, bagpipes, various drums.
For years, with their concerts and recordings, they have been musical ambassadors for Latvia throughout the world. Five times they have received the award for best folk music album of the year in Latvia.  At the heart of the group is violinist Ilga Reizniece, who also possesses a wonderful, unusual voice.  For her efforts in furthering and popularizing Latvian folklore, she has been awarded the Latvian Order of the Three Stars and the Great Folklore Award.  In addition, the group includes Māris Muktupāvels — singer, player of the traditional Latvian kokle, bagpiper and accordionist; Gatis Gaujenieks — singer and bass guitarist;  Egons Kronbergs — guitarist;  and Mārtiņš Linde — percussionist.
The musicians were very well received at all of the concerts.  They performed songs from their wide repertoire, as well as works from their new album Tur kur mīti.  The group's leader Ilga Reizniece introduced each number with lively, interesting comments that enhanced the audience's appreciation and emotional involvement.  In several of the concerts children from the local Latvian schools participated. 
All the concerts were well attended, with excellent reviews.  Total attendance was around 1150, with New York having an exceptionally high number — 325.  The tour received a $3,600 grant from the Latvian Foundation and a grant of 5,000 euros from the Latvian Ministry of Culture (through the PBLA).  TILTS covered the  shortfall of $1,750.
The tour was organized by Benita Jaundāldere.
Kokle virtuoso Laima Jansone returned to North America in October, 2016, to perform for six Latvian communities, this time in the West: in Lincoln, Denver, Seattle, Portland, San Francisco and Los Angeles.  The response of the audience and critics was as enthusiastic and full of amazement as a year earlier on her East Coast tour.  "In her hands the kokle is like a new, completely different instrument.  Laima plays the kokle with so much energy that the strings can barely keep up with the speed of her fingers."  "It was incredible that all this came from a single musician.  It sounded more like an ensemble, so sumptuous was the music."  "From the very first notes we understood that we would not be hearing the kokle in its traditional sense."  Like last year, Laima played folksong arrangements, as well as her own original compositions and marvelously "narrative" improvisations.  "Unique."  "Original."  "Instrument and player—both touched by soul."
Besides performing in these concerts for Latvian audiences, Laima was able to acquaint non-Latvians, university students, with Latvia, its folklore and its musical traditions.  At the University of Washington, she spoke to the 150 students in the "Introduction to Scandinavian Culture" course and also to the Latvian, Lithuanian and Estonian language students in the university's Baltic Studies Program.  In Los Angeles she addressed students in the vocal arts department of the California Institute of the Arts.  At both schools Laima began her talk with general information about Latvia, its inhabitants and its regained independence before going on to Latvian traditions connected to music, including the rebirth of interest in the traditional kokle and the rich Latvian traditions of choral singing and song festivals.  She also described the Latvian system of musical education, a significant factor in the high level of Latvia's musical culture, which has led some to refer to Latvia as a "musical superpower."  The students were all impressed by views of a song festival choir, composed of thousands of singers—10,000 or more — all on a single stage.
This tour achieved something else very important.  Some smaller Latvian communities had been feeling neglected in that concert tours of artists from Latvia were passing them by in recent years.  This time they were very happy that they had not been forgotten.  "Finally — and thank you!"
The tour was organized by Girts Zeidenbergs.
The Latvian Foundation provided a grant of $2,000 and the Latvian Ministry of Culture through PBLA $2,265.  The total budget was $15,855.  Because of the grants, the shortfall that TILTS had to cover was very small, only $90.  As usual, this budget includes only the common expenses, such as transportation, visas and honoraria.  It does not include the expenses of the local organizers.
Lectures
Together with Laima Jansone's concerts on the West Coast, as well as separately in Boston, the head of the Koknese Foundation, Valda Auziņa, spoke about the "Likteņdārzs" project. "Likteņdārzs," meaning 'Garden of Destinies,' is a memorial site being created on an island in the Daugava River at Koknese dedicated to "all those lost to Latvia in the 20th century," whether because of persecution by totalitarian regimes or by enforced exile. Valda Auziņa compared the creation and financing of "Likteņdārzs" to that of the Freedom Monument in Rīga:  "Our fathers and grandfathers built the Freedom Monument, which has become a symbol of our love for our homeland and freedom.  Now we have the opportunity to create this garden as a symbol of Latvia's continual renewal and growth.  "Likteņdārzs" has been conceived as a gift of all the Latvian people to Latvia on its centennial."  She went on to enumerate the specific goals for 2018, including the construction of the main multifunctional building, an amphitheater and a Virtual Memory building that will contain the names of all those who were lost to Latvia in the past century. 
All of this requires funding, and Valda Auziņa explained the various ways Latvians, wherever they are living, can contribute.  Audiences were receptive to this message.  As Juris Beitlers in Seattle wrote, "If anyone has not yet contributed, the time to do so is now.  How satisfying to visit "Likteņdārzs," knowing that  part of your own destiny can be found there."
The lecture tour was organized by Ģirts Zeidenbergs.

Laila Robiņa
Exceptional Young Artists Fund
The Exceptional Young Artists Fund, under the leadership of Laila Robiņa and with the help of Baiba Pinne and Anna Ķepe, in 2016 made the following awards:
$1,000 — Evita Pehlaka, soprano. She participated in the spring of 2016 in the Gertrude Young Artists study program in Melbourne, Australia.
$1,000 — Daniela Lūsis-Grīnberga,  soprano. She participated in the summer of 2016 in the Miami Music Festival studies program, Florida, and also in the UTAH Vocal Arts Academy 2016 Principal Artists program.
TILTS is very grateful to the following generous contributors to the fund:
Stanley Gilbert — $300
Jānis and Daina Lucs — $1,000
The current balance of the fund is $2,755.00. Contributions to the Fund can be made by sending a check, written to "Latvian Cultural Association TILTS, Inc.", to TILTS, c/o Laila Robins, 241 Central Park West Apt. 14H, New York, NY 10024.
In its lifetime, the Exceptional Young Artists Fund has awarded a total of well over $150,000 to over 30 young artists. Awards to young artists are made only from contributions donated specifically to this fund.
The Music Camp Fund
This fund supports Master Classes of the International Latvian Young Musicians' Camp that takes place every second year in Latvia. The last event was in 2016 at the Sigulda School of Arts Baltais Flīģelis, and TILTS awarded $8,000.00 to this class.
TILTS is very thankful to the following generous contributors to the Music Camp fund:
Anita Kupriss and Richard Douglas — $2,500
Dace Aperāne, with help from Anda Sūna Cook and Gunta Semba, manages the fund. The current balance is $500.00. 
Contributions to the Music Camp Fund can be made by sending a check to TILTS' Treasurer, written to "Latvian Cultural Association TILTS, Inc.", with a note explaining its purpose.
History Projects Fund
The History projects funds currently does not have any new projects, and the balance is $0.00.
Information Project
To help counteract Russia's negative political propaganda in Latvia, TILTS at its 2015 annual meeting established a project for disseminating information whose aim is to seek out relevant articles about important events and points of view by experienced international journalists, analysts and scholars and to send these articles to governmental leaders and the media in Latvia. 
To this end TILTS subscribes to The Financial Times, The Economist, Stratfor Global Intelligence, Foreign Affairs, the Latvian magazine Ir,, and PBLA Ziņu Apskats (PBLA News Summary).  In addition, a number of volunteers regularly follow The New York Times, The Wall Street Journal, The Washington Post, Time (U.S.), The Times (U.K.), The Guardian, Businessweek, Reuters, the Canadian press, various think tanks and other sources.
This information in 2016 was sent out by e-mail using several mailing lists.  The "short list," with about 200 addresses, includes members of Latvia's leadership, officials in the ministries of Defense and Foreign Affairs, some members of Parliament, the newspaper Latvijas Avīze, the news sites Delfi and medusa.oi (both of which have Russian editors), some nongovernmental organizations, the Latvian press outside of Latvia, and various individuals from PBLA, ALA and TILTS.  This short list receives the most significant articles by Western commentators a couple of times a week.  The "medium" list, with about 900 addresses, including about 400 in the governmental structure of Latvia, receives mailings less frequently.  Recipients in both lists inform us of changes of address.  This, as well as other responses, indicate that the information is appreciated and valued.  Occasionally, information is sent out to a much larger list, but this occurs less often because it is so labor intensive, requiring the time and effort of many more volunteers.
Keeping these mailing lists up to date has meant the investment of more than a thousand hours of work.  After every major mailing, obsolete addresses are returned, and, on occasion, recipients ask to have their names removed.  Much time is devoted to expanding the lists as well.
To cover the expense of subscriptions, translation and copyright payments the project relies on fund raising.  Donations can be sent to TILTS's treasurer, with a note explaining that the gift is intended for the Information Fund.  Checks should be made out to "Latvian Cultural Society TILTS."
Expenses for subscriptions in 2016 were $560, and the fund's current balance is $1,540.  Ģirts Zeidenbergs and Andris Padegs are in charge of the fund.
Support
In 2016 TILTS' Board awarded a total of $2,000 in financial support, as follows:
$500 — Support to Dzintra Erliha and Ilona Meija for their CD No klasikas līdz mūsdienām.
$500 — Support to the young professional musicians orchestra Chelsea Symphony for their participation in the first performance in New York of "English Horn Concerto" by Pēteris Vasks.
$1,000 — Support to the Latvian Song and Dance Festival in Baltimore in 2017. For this contribution, the festival's handbook Vadonis will include a page about TILTS.
Other Events of 2016
At the end of 2016, 72 people had joined ALA as members of TILTS, including 6 amber, 8 gold and 55 life members.
Ints Dzelzgalvis was TILTS delegate to the ALA 2016 congress in Los Angeles.
Dace Aperāne, Ārija Kats un Baiba Pinne represented TILTS on the Council of New York Latvian Organizations.
The annual TILTS membership meeting took place on April 9, 2016 at the Philadelphia Free Letts building in Philadelphia. A Board meeting preceded and another followed the membership meeting. The membership elected 45 people to the Board. The Board elected the same officers as last year.
In two shipments a total of 277 boxes, with a weight of 4,893 kg, of books and periodicals collected from Latvian homes were shipped by TILTS through the Latvian American Shipping Line to the Latvian National Library in Riga for distribution to schools and libraries (Andris Padegs).
Events Planned
In 2018 Latvia will have its centennial, which will include special events, as well as financing of these events by the Culture Ministry. Expecting significant additional financial support, TILTS had started planning a tour by the Valmiera Drāma Theater with the play "Vaidelote" by Aspazija, directed by Inese Mičule. It would have included more actors than TILTS can finance in one of its regular tours. Currently, however,  no additional financing is expected, and no special performances are planned.
When a tour is firmly established, its schedule will be published in the TILTS web page www.tilts.org, as well as in the newspapers Laiks, Latvija Amerikā and the on-line Australian newspaper Latvietis.
Currently TILTS is working on the following tours:
A tour with Valmieras Drāmas Theater with the play "Medību Pils" by H. Gulbis, directed by J. Znotiņš. The performances will be as follows: Washington, DC (Sept.  8), New York (Sept. 9), Priedaine (Sept. 10), Boston (Sept. 13), Toronto (Sept. 15), Cleveland (Sept. 16), Detroit (Sept. 17), Kalamazoo (Sept. 20), Chicago (?), Minneapolis (Sept. 24), Portland, OR (Sept. 24), Seattle (Sept. 27), San Francisco (Sept. 30), Los Angeles (Oct. 1).
A tour by the ethnographic ensemble Trio (Cinkuss, Šmite and Rancāne) is being planned for November of 2017, covering New York, Boston, Cleveland, Toronto and possibly three other locations in Midwest.
A tour by the pianist Andrejs Osokins un vocalist Katrīna Gupalo is being planned for May, 2018; possible locations: Cleveland, Minneapolis, San Francisco, Boston, Washington, DC.
A tour by the Rīgas saksofonu kvartets, under the direction of prof.  Artis Sīmanis is possible in April, 2019, covering the East and Midwest of the USA.
2016 Finances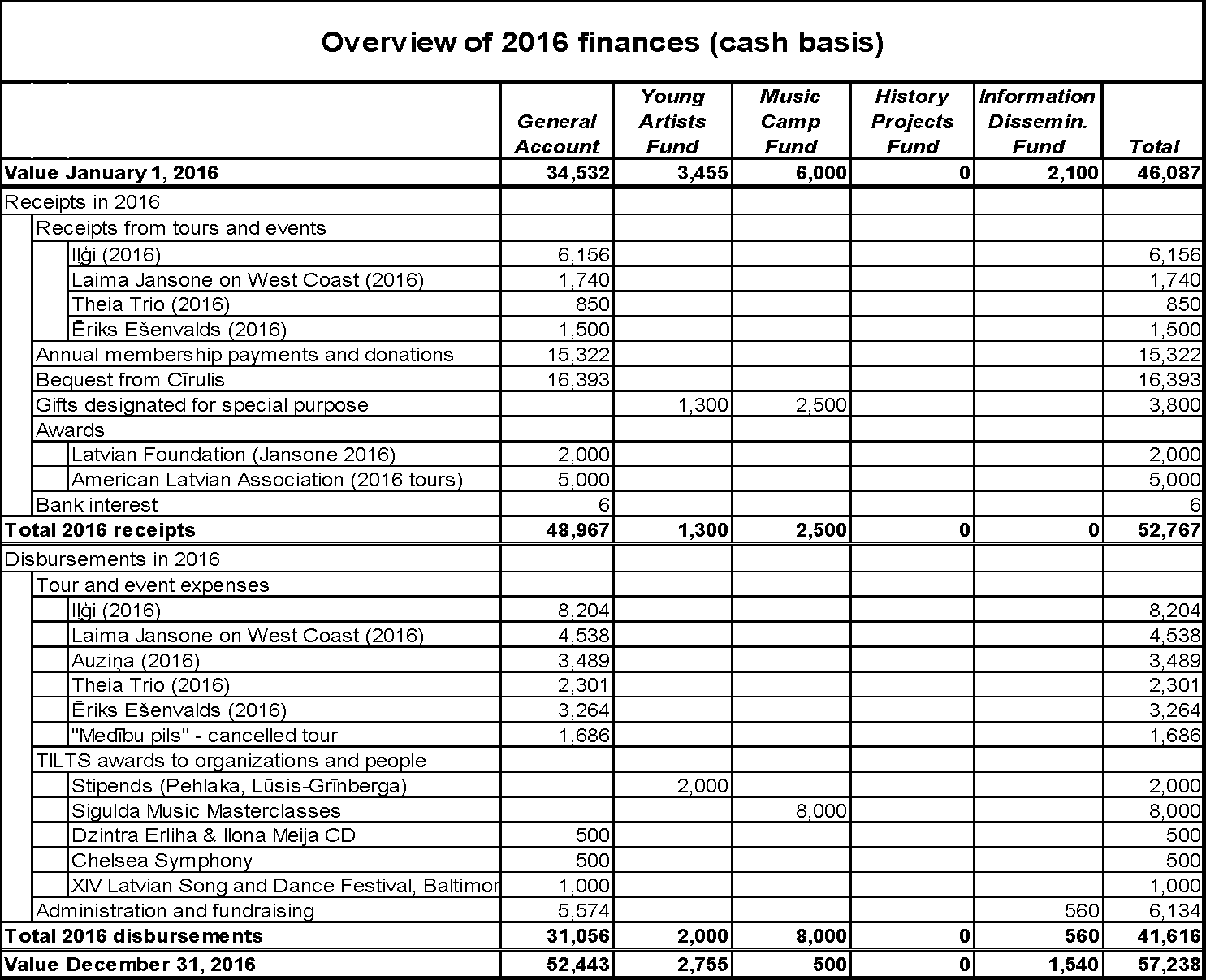 2016 summary
TILTS is particularly grateful to the following supporters who have contributed to the general account or special projects $1,000 or more:
Edgars Bērziņš
Anita Kupriss and Richard Douglas
Jānis and Daina Lucs
Do You Have a Will?
A number of years ago a doctor, member of the TILTS Board, suddenly died. He did not have any relatives, and he did not have a last will and testament. All his personal belongings, including his library of Latvian books, were discarded as garbage, and his house and bank accounts became the property of New York State.
In his lifetime he had supported Latvian interests and had contributed to Latvian organizations, but by not having a last will and testament he failed to make a financial contribution that could have been his most significant.
If you do not have relatives, make sure you have a last will and testament, and consider leaving your property to some organization that works to advance Latvian national and cultural interests.

Juris Baidiņš
Membership
Our work depends largely on your contributions. In the past we planned our cultural events so that they would pay for themselves. This has become impossible, as the size of our audiences keeps shrinking and the expenses for artists from Latvia keep rising. We also need contributions for our projects associated with support of education and other cultural activities.
Please help us carry out our programs and become a member of TILTS! Donations for TILTS membership start at $15.00. We have not increased membership dues so that the amount of the dues would not be an obstacle for those with limited resources. Make the check payable to "Latvian Cultural Association TILTS, Inc." and forward
in the USA to: Treasurer Juris Baidiņš 104 Windon Drive, Wilmington, DE 19803
in Canada (in Canadian dollars) to:  Anita Liepiņš, Box 21131 RPO Orangeville Mall, Orangeville, ON   L9W 4S7 Canada
In the USA, donations to TILTS are tax-deductible. TILTS board members do not receive any compensation for their services. In 2016 TILTS received a total of $15,322 in membership fees and general contributions from 342 members, the average contribution was close to $45 per member.
How Efficient is TILTS?
The charitable organizations of America continually bombard us with requests for contributions. But they do not spend all their money on their charitable work. Some of them spend most of the money they collect on administration and fundraising, paying high salaries to their executives. The charities can be considered efficient if 80%-90% of the funds are spent on the claimed charitable activities, with only 10%-20% on administration and fundraising.
The overview of the finances of TILTS on page 7 gives an idea of the efficiency of our operations. In 2016 TILTS receipts were $52,767; this is the sum that passed through the TILTS bank account. However, some of our cash flow does not show up in the financial summary. In accordance with prior agreements, part of the money that is due TILTS for arranging the tour is paid by the local organizers directly to the performers to cover their travel expense and honorarium. This amount in 2016 was approximately $35,000, yielding a total TILTS 2016 income of $87,767. The administrative and fundraising expenses were $5,574, which is 6.3%
Thank you!
Pēters Vecrumba is our Webmaster — he designs the graphics for the TILTS web page www.tilts.org and updates its contents. Thank you, Pēters!
Thanks to all who have helped in the past and are helping now in mailing our annual report.
Thanks to the TILTS Audit Committee, which is helping our treasurers Juris Baidiņš and Jānis Melgalvis take care of TILTS books:

Pēteris Āns
Jānis Bebris
Kaspars Krēsliņš
With Gratitude, the Board of the Latvian Cultural Association TILTS
On April 9, 2016 45 persons were elected to TILTS Board: 36 USA, 7 Latvia, and 2 Canada
Mārtiņš Andersons

Dace Štauvere Aperāne

Gundars Aperāns

Juris Baidiņš

Valdis Bašēns

Pauls Berkolds

Edgars Bērziņš

Valdis Bērziņš

Jānis Cigusis

Anda Cook

Edgars Dāle

Ints Dzelzgalvis

Rolfs Ekmanis

Astrīda Jansone

Amanda Jātniece

Benita Jaundāldere

Līga Jēkabsone

Tija Kārkle

Lauma Upelniece Katis

Ārija Kats

Anna Ķepe

Brigita Klauss

Daila Krastiņa

Laris Krēsliņš

Matīss Kukainis

Anita Liepiņa

Maija Medne

Jānis Melgalvis

Ilmārs Mežs

Andris Padegs

Ilze Pētersone

Baiba Pinne

Zinta Pone

Ināra Reinis

Andris Ritums

Laila Michelsone Robiņa

Gunta Puzule Semba

Laimonis Siliņš

Ruta Krūze Strobele

Jānis Students

Ivars Timbers

Normunds Vīksne

Marcis Voldiņš

Ģirts Zeidenbergs

Astra Pētersone Zemzare
This review has been prepared in Latvian and English by Valdis Bašēns and Andris Padegs.