Annual Review — 2007
School Improvement Project
Under the leadership of Pēteris Zariņš, with the assistance of Arnis Sprancmanis as the project's treasurer and with your contributions and help, we are continuing to provide computers and educational materials to schools in Latvia.
In 2007 the school-improvement project received $4,075 in donations. It awarded $1,500 to Virga elementary school (Liepājas Region), $975 to Skujenes elementary School (Cēsu Region) and $1,500 to Stikli school (Venstpils Region).
In 1935 the President of Latvia Kārlis Ulmanis gave a now famous speech urging the population to give books to the local schools. What followed was a major institution in Latvia, whereby every January people were requested to donate books to their schools. Let us follow this old Latvian tradition!
We again encourage you to send a donation to our school improvement project. Recommend a school that has a special significance to you – maybe the school you or your parents or grandparents attended. We will evaluate the school's needs, and provide support as justified, taking care of all formalities.
The funding allocated by the Latvian government and local municipalities does not meet all needs of the schools, and lately there has been a specific need for books. The schools need also funds for student activities and cultural events. Since schools in Latvia are small in comparison to the size of schools in America, a relatively modest contribution can provide a significant impact on the school's budget.
Absent a specific recommendation, consider adding $50 (or more) to your annual TILTS contribution for our school improvement project. Donations in USA are tax-deductible. We will let you know how your gift was used. If you would like to contribute, please contact
Pēteris Zariņš at szarins@twcny.rr.com, Tel. (315) 682-5615, Fax (315) 682-1772
During the lifetime of this program, TILTS has supplied over 500 computers and other teaching materials to over 100 schools in Latvia and six computers to Latvian schools in Siberia.
Classical Music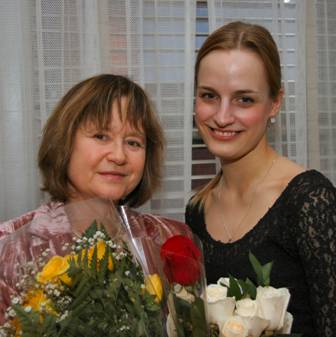 The author Anna Žigure and violinist Laura Zariņa following the TILTS annual meeting March 3, 2007
Soprano Ingrida Kaiserfelde, soloist at the Opera of Graz, Austria, and a well-known expert on Mozart, performed in the Latvian Ev. Luth. Church in Yonkers. She was accompanied by her husband Māris Skuja, who gave also a piano recital. Her performance was arranged by Andrejs Jansons, taking advantage of the singer's visit to New York City to audit at the Metropolitan Opera. Laila Robiņa made arrangements on behalf of TILTS. The program included songs and arias by Mozart, as well as compositions by Alfreds Kalniņš.
Laura Zariņa (violin) and Vents Zilberts (piano) presented four concerts, starting with a concert following TILTS annual meeting on March 3 and then performing in Boston, Washington, DC and Philadelphia. Dace Aperāne made the arrangements.
Pianist Liene Circene gave performances in Toronto, Cleveland, Boston and New York. The New York concert was part of the annual November 18 celebration. With the support from American Latvian Association (ALA), Ms. Circene gave also a much-appreciated concert to the children at the Latvian school in Yonkers. Dace Aperāne was responsible for the tour, which was successful both artistically and financially.
Popular Music
The ensemble "Zeļļi" gave a tour from April 14 to May 12, covering nine Latvian centers in NE USA. The attendance at the concerts ranged from 50 to 170, and a total of some 820 people heard the performances. The tour was supported by a $2,500 grant from the American Latvian Association (ALA), and, with this grant, both expenses and income were approximately $12,000. The feedback from listeners was very positive. Jānis Students, assisted by Jānis Bībelnieks, was responsible for the tour.
Lectures
The author Anna Žigure, former ambassador of Latvia to Estonia and Finland, gave the lecture "Latvia after the Election of the Ninth Saeima" on March 3 as part of the TILTS annual meeting event, followed by lectures Washington, DC and Philadelphia. It gave a good insight of the political life in Latvia.
Theatre
What Type of Play to Choose?
The play "Dzīvīte, dzīvīte" is about life in Latvia in the Soviet days, and reaction by some viewers was negative. This illustrates the difficulties TILTS faces in the selection of an appropriate production.
We would like to present a play by a Latvian author from a theater in Latvia; transportation costs limit the number of actors to six, and this year we preferred a comedy. In order to select this year's production, Marcis Voldiņš, the tour's organizer, made a trip to Riga (at his own expense!), saw 12 shows and recommended this play as the most suitable. Subsequently, an additional five people saw the play and confirmed that this was the most appropriate, if not ideal, choice.
TILTS then had to decide between waiting for he ideal production or picking the best that Latvia currently offered. We decided to to present to our viewers in America the most suitable production available. We plan to take this position in the future also, even through some viewers occasionally may feel disappointed.
An ensemble from Dailes Teātris from Riga made a tour of 14 Latvian communities in September and October with the comedy "Dzīvīte, dzīvīte" by Jānis Jurkāns, starting with Boston, New York and Priedaine and ending with San Francisco, Los Angeles, Washington, DC and St. Petersburg, FL. The ensemble traveled in a rented minibus on the east coast, but by plane to the west and to Florida. The attendance at each performance was between 60 and 300, and a total of some 1,650 people saw the play. In spite of grants from ALA-KF and Latvia Theatre Professionals Association, receipts did not match the expenses of $23,000, and TILTS had to subsidize the tour with $1,600. Marcis Voldiņš organized the tour.
Exceptional Young Artists Fund
The Exceptional Young Artists Fund, under the leadership of Laila Robiņa and with the participation of Baiba Pinne un Jānis Cigūzis, in 2007 made a grant of $800 to:
Diāna Baibusa
Contributions to the Fund can be made by sending a check, written to "Latvian Cultural Association TILTS, Inc.", to
TILTS, c/o Laila Robins, 241 Central Park West Apt. 14H, New York, N.Y. 10024.
In its lifetime, the Exceptional Young Artists Fund has awarded a total of over $100,000 to over 30 young artists
History Projects Fund
The History Projects Fund, managed by Lilita Bergs with the assistance of Aivars Keire and Baiba Pinne, has received in the period between its creation in 2006 and December 31, 2007 contributions from 34 donors – 27 from donors in the USA, 3 from Canada, 3 from Australia and 1 from Latvia. A total of $5,180 has been received.
The fund currently is accepting donations to cover the expenses of Anna Žigure in the preparation of her book, originally called "Eslingena," about the Latvian Displaced Persons (DP) camps in Germany following the Second World War. The current name of the forthcoming book is "Viņi". Her plan is to cover the lives of people, in the form of a novel, after the people left Latvia in 1944-1945 to escape the advancing soviet army and before they left the camps for overseas countries around 1950.
Contributions to the Fund can be made by sending a check, written to "Latvian Cultural Association TILTS, Inc.", to
TILTS, c/o Lilita Bergs, P.O. Box 67, Fabius, NY 13063.
Meetings in Latvia
To facilitate interaction with and among people who have moved to Latvia from the West, particularly among the members of TILTS, TILTS arranged two gatherings in Riga:
On July 29, jointly with The Canada-Latvian Business Association managed by Edvīns Kalviņš, we arranged a gathering of Latvians of the world in the restaurant "Charleston". The buffet type of meeting (charge 10 lats) drew an attendance of 170, which was more than had signed up and had been expected, but there was plenty of food, and we have received very positive feedback.
On September 24 TILTS arranged an informal gathering of some of the board members and guests at the facilities of the Integration Ministry.
Support
In 2007 TILTS board awarded the following financial support:
$1,500 to the VIII International Music Camp masters class to be held in Ogre.
$2,000 to the Latvian-born musician Arkady Fomin in support of the series of benefit concerts "Symphony of Toys" he is organizing in Latvia to help needy children.
$500 in support of concert series by Jaunais Rīgas Teātris (the New Theatre of Riga).
$500 to support the newly established Latvian School in Brooklyn, NY.
$1,000 to Dzintra Ēhrliha for the preparation of a CD with the music of Lūcija Garūta, including a booklet with text in Latvian, English and French.
Recognition
We are gratified that, on the basis of our initiative or with our support, the President of Latvia has bestowed recognition to the following:
Kārlis Ķuzulis - V class Triju Zvaigžņu ordenis (The order of Three Stars)
Marģeris Pinnis - V class Triju Zvaigžņu ordenis (The order of Three Stars)
Beatrise Rasuma - IV class Atzinības krusts (The Cross of Merit)
Triju Zvaigžņu ordenis (The Order of the Three Stars) is the highest recognition in Latvia, and Atzinības krusts (The Cross of Merit) is awarded by the President for outstanding service to the country.
A Significant Donation to TILTS
TILTS is very pleased to have received a donation of $6,000 from the Elizabeth-Newark Latvian Church, which was part of the residual assets upon the dissolution of the church. TILTS is particularly honored for the statement of recognition for the significance of its work implicit in the donation.