Annual Review — 2013
April, 2014
Dear Members and Supporters of TILTS
Here is a review of our 2013 activities as well as our plans for this year and next.
Our main head ache currently is the financing of tours. Tours with theatre ensembles that have more than just a couple of actors do not cover their expenses – the expenses exceed the payments which TILTS receives for the performances. That became very obvious with the carefully planned and widely advertised 2012 tour with Dailes Theatre performance of Raimonds Staprāns play "Gūsteknis Pilī": to cover the expenses of $33,471 we had to find additional support in the amount of over $13,000. This deficit was covered by the American Latvian Association, Latvian Foundation, The Culture Capital Fund of Latvia and TILTS (some local organizers also incurred a deficit, but we hope that some had a surplus, too).
The Latvian Foundation makes major grants on the basis of membership vote. The membership voted to support the Trio Šmite Kārkle Cinkuss cncert in 2013, and we hope that the membership will chose to support TILTS in the future when such opportunity arises. However, the main financial support in the last couple of years has come from The American Latvian Association, starting with the $5,000 support for "Gūsteknis pilī" in 2012. In the 2013/2014 winter season ALA support was $5,000 each for "Bezkaunīgie Veči" in September and for the Amber Flute Quartet in January-March. Currently we are operating with the plan and hope that ALA will continue to support two TILTS tourneys a year with $5,000 for each. This would be a meaningful support, and we are asking all local organizers of the performances to mention this in their event programs.
TILTS is thankful to ALA and The Culture Capital Fund of Latvia for their contributions, and we appreciate the vote of confidence from the membership of The Latvian Foundation for awarding grants to TILTS tours. TILTS will need such support also in the future.
We mail this report to all members of TILTS and, additionally, we provide a hard or soft copy to people who are not yet members. We wish you a prosperous and healthy 2014! To those of you who have supported us in the past we thank you for your trust. To all who appreciate the value of Latvian culture, we ask for your support. Become a TILTS member and attend performances sponsored by TILTS. By attending such performances you are providing financial support for the tours and improving our ability to arrange visits by the most popular artists.
| | |
| --- | --- |
| Ģirts Zeidenbergs | Andris Padegs |
| Chairperson | Executive Vice Chairperson |
Theatre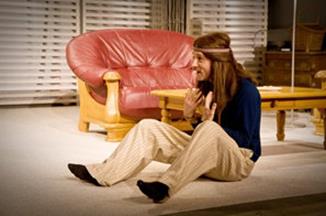 Valmiera Drāmas Theatre tour with Anšlavs Eglītis comedy "Bezkaunīgie veči" took place September 6 to 29, 2013 with performances in 14 cities: Toronto, Cleveland, Detroit, Kalamazoo, Chicago, Minneapolis, Washington DC, New York, Priedaine NJ, Boston, Portland OR, Seattle, San Francisco and Los Angeles. The cast consisted of Rihards Rudāks, Januss Johansons, Juris Laviņš, Skaidrīte Putniņa and Oskars Morozovs under the direction of the young and talented directors Reinis Suhanovs un Jānis Znotiņš, who also served as stage hands and providers of music.
The play is about three Latvian men who had to leave Latvia during WW2 and now spend their retirement years in California. Their hobbies, their attempts to preserve the old traditions, and their relations with their children who have absorbed the life styles of the times are amusing and remind the viewer of the issues faced by those who leave Latvia now for economical reasons.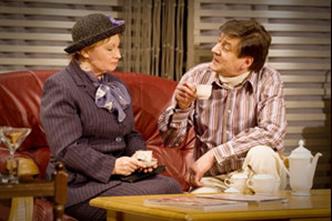 Some 1,600 people viewed the performances of this tour, which today is a very large number, and comments were very favorable. Initially the large number (170) of items to stage the shows was a concern of the local organizers, but the issue was alleviated by the driver Jānis Grigalinovičs-Leja (Priedaines Jānis) who piled most of the items in his rented tour bus and made the items available for the shows. Even though the actors had very little free time, Jānis managed to show them places of interest in the USA, for which the actors were very grateful.
The receipts for the performances did not cover the expenses of $27,640. ALA supported the tour in the amount of $5,000, but nevertheless TILTS had to cover a deficit of over $2,000.
TILTS expresses its appreciation to the artists, to the organizers of the performances and to Priedaines Jānis. The tour was managed Marcis Voldiņš.
Classical Music
The organist Kristīne Adamaite un the saxophonist Artis Sīmanis in April of 2013 gave six performances, additionally professor A. Sīmanis who is the rector of the Jāzeps Vītols Latvian Academy of Music gave a lecture, as part of the Organ Days events, on Latvian music for organ and saxophone. In addition to the concert that was part of the Organ Days in Philadelphia, the musicians played at the Park Avenue Church in Manhattan, in Washington DC, Minneapolis and Cleveland. They also met with the manager of National Public Radio Program "Pipedreams". The programs consisted of music by Latvian composers.
The reviews were excellent. Benjamiņš Aļļe in his review in LAIKS of April 21, 2013 said: "Both artists - Adamaite and Sīmanis – have presented to us something very important; we should have the opportunity to experience such musically reflective moments more frequently."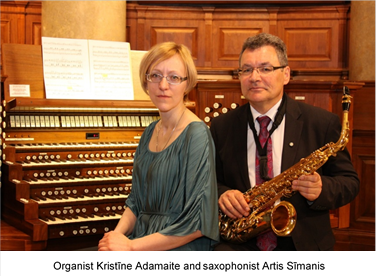 Dace Aperāne managed the tour together with LEGA (Latvian Organist Guild of America), The Latvian Concert Association of Minnesota, The Latvian Concert Association of Cleveland, and the St. John's Latvian Church of Philadelphia.
The Culture Capital Fund of Latvia covered the travel expenses of the artists across the ocean, and LEGA covered visa expenses. TILTS contributed $523 to cover the deficit.
In September of 2013 the recipients of Knuts Lesiņš scholarship Kārlis Tirzītis un Haralds Klips performed at a few concerts in the central USA. The tour was arranged by the originator of the Knuts Lesiņš Fund, the late Dr. Jānis Robiņš, with the support of LOAM, TILTS and other Latvian organizations. The two young artists were accompanied by their piano teacher Lelde Paula, who participated with a lecture on the E. Dārziņš High school.
TILTS is one of the Knuts Lesiņš Fund support organizations and supported the tour with $300. Dr. Jānis Robiņš was the heart and brains of the fund; TILTS expresses its deep gratitude for his leadership and vision on behalf of the young Latvian musicians and Latvian music in general.
Exceptional Young Artists Fund
The Exceptional Young Artists Fund, under the leadership of Laila Robiņa and with the help of Baiba Pinne and Anna Ķepe, in 2013 received $100.00 in donations.
In its lifetime, the Exceptional Young Artists Fund has awarded a total of over $150,000 to over 30 young artists. The fund makes awards only from contributions donated specifically to this fund. No funds were awarded in 2013.
Contributions to the Fund can be made by sending a check, written to "Latvian Cultural Association TILTS, Inc.", to TILTS, c/o Laila Robins, 241 Central Park West Apt. 14H, New York, NY 10024.
The Music Camp Fund
The immediate objective of this fund is to provide support to the XI International Latvian Young Musicians' Camp – Master Classes that will take place June 30 to July 9, 2014 at the Sigulda School of Arts "Baltais Flīģelis". Dace Aperāne, with the help from Anda Sūna and Gunta Semba, manages the fund.
In 2013 the Music Camp Fund has received $1,400.00 in general donations and $1,855.00 in memory of Ausma Kurlande and $300.00 in memory of Dagmāra Vallens. The fund expresses its appreciation for all contributions, but in particular to Anita Kuprisa for her $1,000.00 general contribution and $1,000.00 memorial contribution.
Contributions to the Music Camp Fund can be made by sending a check to TILTS Treasurer, written to "Latvian Cultural Association TILTS, Inc.", with a note explaining its purpose.
History Projects Fund
Currently the fund supports one project – "The transfer of Ēvalds Dajevskis paintings to the Liepāja museum". In 2013 the fund received a donation of $1,000.00 from Maruta Lietiņa Ray. Pēteris Dajevskis manages the transfer of paintings, and Andris Padegs supervises the fund.
Ethnic Performances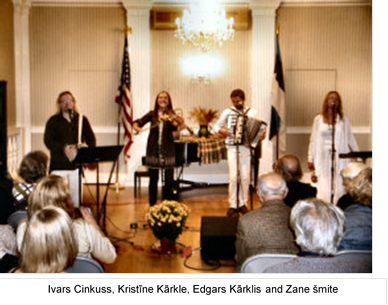 Trio Šmite Kārkle Cinkuss were on a tour from October 18 to November 18, 2013 and gave lively performances in 15 Latvian centers. Additionally, in Seattle at the Washington State University Zane Šmite and Ivars Cinkuss, who was the artistic director of the Latvian Song Festival of 2013 in Riga, with some 25,000 singers, conducted a master class on Latvian folk music for music students.
In the first part of the concert the artists created images of country life with the traditional stories of shepherds, the joys of spring, the "līgo" refrains of the summer and "kolando" of the winter. Zane Šmite and Kristīne Kārkle beautifully sang the old and less familiar folk melodies. Ivars Cinkuss sang and additionally emphasized the rhythm of the songs on his drum. The clean melodies of the violin played by Kristīne Kārkle added a bright and lively flavor.
In the second part of the concert Edgars Kārklis joined with his lively and energetic renderings on the accordion. The humorous and well-presented comments by Ivars Cinkuss were appreciated by all.
The membership of the Latvian Foundation voted to support the tour with $5,000. The tour was organized by board member Maruta Kārklis from Washington, DC.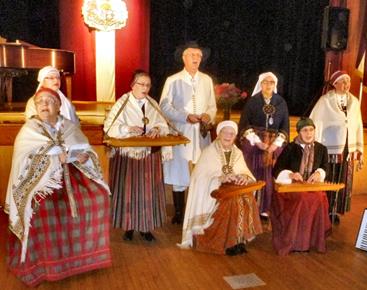 The Latvian Folk ensemble "Teiksma" from Minneapolis, MN, under the direction of Zinta Pone, performed in two tours in 2013. The members of the group sang Latvian folk songs, accompanied by the traditional Latvian folk instrument kokle and other instruments.
The West coast tour started with a concert in San Francisco on April 20, followed by a performance in Los Angeles on April 21. After each concert the public joined for a lively sing-along evening. The members of Teiksma were very good in creating and atmosphere where the public participated in the singing as well as in the selection of songs.
The East coast tour was arranged as part of the November 18 Independence Day celebrations. It included a performance in Philadelphia on November 16 and in Priedaine on November 17. Again, the public joined the singing after the concerts.
To cover the expenses, TILTS contributed $1,000 to each tour, a total of $2,000.
Gathering in Latvia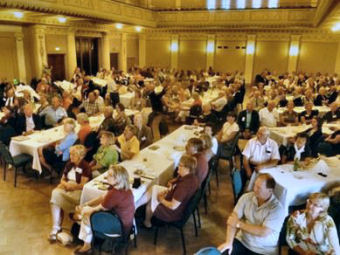 Participants at tables
In cooperation with the Latvian Foundation and PBLA, on June 30, 2013 TILTS arranged a gathering of Latvians of the world at the facilities of the Rīgas Latviešu Biedrība (RLB). The gathering included over 250 participants from almost all countries where Latvians reside. In response to an invitation by TILTS and the RLB, some participants joined the RLB as members.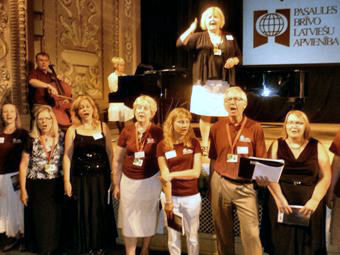 Vizma Maksiņa conducts
In the front hall ink drawings by Artūrs Langmanis were on display. The head of the RLB Guntis Gailītis gave an address, as did the president of PBLA Jānis Kukainis. Member of LF board Renāte Kenney gave an overview of the Latvian Foundation.
Singers from Canada who had come to Riga to participate in the Song Festival gave a choral performance under the direction of Vizma Maksiņa and Andrejs Vītols, with the participation of Juris Ķeniņš and other soloists. Particularly memorable were the songs "Pie Dieviņa gari galdi" un "Šeit ir Latvija" where everybody joined in the singing. The gathering was organized by Ģirts Zeidenbergs.
The organizers regret and apologize for the long lines and the delays at the registration tables. We will try to do better in the future.
TILTS will not organize a gathering of Latvians of the world in Riga in 2014, as the Latvian Song Festival in Hamilton, ONT, takes place from July 3 to 6, 2014.
Other Events of 2013
Ints Dzelzgalvis and Benita Jaundāldere were TILTS delegates to the ALA 2013 congress. 73 people had joined ALA as members of TILTS, including 5 amber and 9 gold life members.
Dace Aperāne and Anna Ķepe represented TILTS to the Council of New York Latvian Organizations.
The annual TILTS membership meeting took place on March 23, 2013 at the Daugavas Vanagu House in Bronx, NY. A board meeting preceded and another followed the membership meeting. The membership elected 105 people to the board. The board elected the same officers as last year.
In two separate shipments on May 4 and November 9, 2013 TILTS shipped books and periodicals collected from Latvian homes to the Latvian National Library in Riga for distribution to schools and libraries. A total of 312 boxes, with a weight of 4,656 kg, were shipped through the Latvian American Shipping Line (Andris Padegs).
On May 9, 2013 Ģirts Zeidenbergs and Andris Padegs met with the ambassador of Latvia to the USA Andris Razāns, who had recently assumed this position in Washington. The purpose of the meeting was to introduce the ambassador to TILTS and to establish a basis for cooperation in the future.
Support
In 2013 TILTS Board awarded a total of $2,900.00 in financial support, as follows:
$100.00 – to the pianist Diana Zandberga for the preparation of her CD.
$500.00 – to the composer Ēriks Ešenvalds for his Northern Lights project, leading to a movie and a composition for symphonic orchestra and choir. The project includes an expedition to the Northern part of Europe to record the local people singing their folk music and telling stories and beliefs about northern lights.
$2,000.00 – to the XI International Young Latvian Musicians' Camp – Master classes, which will take place June 30 to July 9, 2014 at the Sigulda School of Arts "Baltais flīģelis."
$300.00 – to the annual Knuts Lesiņš award 2013 tour, which included Kārlis Tirzītis (piano) un Haralds Klips (clarinet).
"Rīga Dimd"
In 2012 TILTS awarded to Māra Pelēce $500 to document the evolution of Latvian popular music in the years of exile. Additional support was provided by ALA, LF and LOAM. A trailer now is ready, and the music by a number of performers in the USA and Latvia has been recorded. Here are Māra's words on her work:
"The music created by the young musicians after they left Latvia reflects both their roots and their environment; each created something unique by integrating what he had inherited with what he heard. Ilmārs Dzenis sang country-style music with a Latvian flavor; Arvīds un Mūrsitēji combined their Latvian elements with British-style pank; Frikadeļu Zupa crossed Latvian music with bluegrass.
To really understand this music one has to understand the roots of these musicians. Some who excelled with us in the USA have now found their place in Latvia, but with a different style. For example, Gatis Gaujenieks in his youth sang with Akacis, today he has returned to folklore with Ilģi. Still, his old songs are heard on the Latvian radio with today's performers. Why? Because the music and the words address us.
In the trailer we meet Gatis and his colleague Arnolds Kārklis (Akacis); the well known Latvian poet Juris Kronbergs from Sweden (Prusaku Ansamblis); also the creative and productive composer and performer Vilnis Baumanis (Trīs no Pārdaugavas). Each of them talks about his experiences and motivation in creating the popular Latvian music of exile.
Events Planned for 2014 – 2015
In the fall of 2014 a tour is planned with LNO soloist soprano Inga Šļubovska and pianist Agnese Egliņa. The following Concerts have been set up:


Oct. 18 Cleveland (the 60th anniversary of the Concert Assoc.)
Oct. 19 Minneapolis
Oct. 23 New York
Oct. 25 Philadelphia
Other concerts are planned.
In the fall of 2015 a tour is possible with the outstanding actor Vilis Daudziņš from Jaunais Rīgas Teātris with his play "Vectēvs" (Grandfather) covering the experience of Latvian soldiers in the Red Army and the Latvian Legion. Ms. Daudziņš may join with her own performance.
A tour by theatre group is planned for the fall of 2014, but the play is not yet selected.
TILTS will not organize a gathering in Riga of the Latvians of the world in 2014 because of a conflict with the Song Festival in Hamilton, ONT.
How Efficient is TILTS?
The charitable organizations of America continually bombard us with requests for contributions. But they do not spend all their money on their charitable work. Some of them spend most of the money they collect on administration and fundraising, paying high salaries to their executives. The charities can be considered efficient if 80%-90% of the funds are spent on the claimed charitable activities, with only 10%-20% on administration and fundraising.
The overview of TILTS finances on page 7 gives an idea of the efficiency of TILTS operations. In 2013 TILTS receipts were $57,170, and $4,733 was spent on administration and fundraising, which is 8.3%. However, some of our cash flow does not show up in the financial summary. In accordance with prior agreements, part of the money that is due TILTS for arranging the tour is paid by the local organizers directly to the performers to cover their travel expense and honorarium. When the total expenses of the tours are included in the receipts, TILTS receipts in 2013 were $87,893 and the administrative and fundraising expenses were 5.4%.
2013 Finances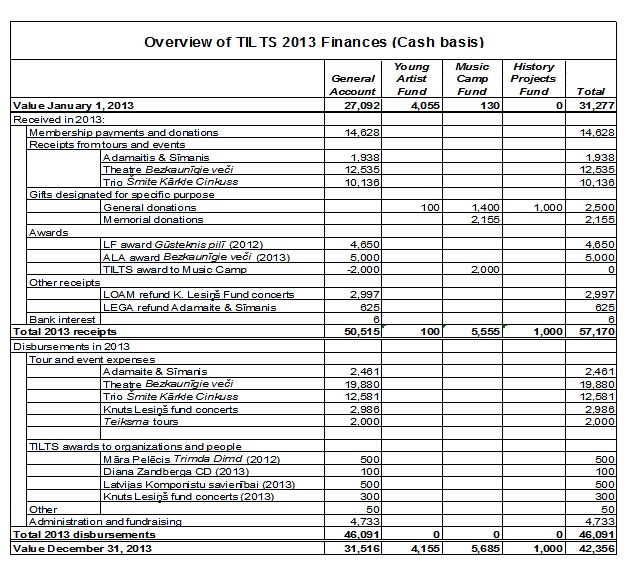 Do You Have a Will?
A number of years ago a doctor, member of the TILTS Board, suddenly died. He did not have any relatives, and he did not have a last will and testament. All his personal belongings, including his library of Latvian books, were discarded as garbage, and his house and bank accounts became the property of New York State.
In his lifetime he had supported Latvian interests and had contributed to Latvian organizations, but by not having a last will and testament he failed to make a financial contribution that could have been his most significant.
If you do not have relatives, make sure you have a last will and testament, and consider leaving some of your property to some organization that works to advance Latvian national and cultural interests.
Special Thanks
TILTS is thankful to everybody for supporting its work with membership dues, gifts, and testamentary bequests or for personally participating in one of TILTS projects.
This year TILTS feels particularly honored because of the trust Edgars Berziņš of Philadelphia has shown in TILTS work by contributing $1,000, along with his annual dues. Thank you, Edgar, for this substantial gift and for the high appraisal of TILTS work.
Membership
In the past we have planned most of our cultural events so that they would pay for themselves. This, however, has become impossible, as the size of our audiences keeps shrinking and the expenses for artists from Latvia keep rising. We also need contributions for our projects associated with support of education and other cultural activities. We have not increased membership dues so that the amount of the dues would not be an obstacle for those with limited resources
Please help us carry out our programs and become a member of TILTS! Donations for TILTS membership start at $15.00. Make the check payable to "Latvian Cultural Association TILTS, Inc." and forward
in the USA to: Treasurer Juris Baidins 104 Windon Drive, Wilmington, DE 19803
in Canada (in Canadian dollars) to: Ivars Timbers, 1921 Poppy Lane Pickering, ONT L1V 2T4.
In the USA, donations to TILTS are tax-deductible. No TILTS Board member receives any compensation for any of her or his services. In 2013 TILTS received annual dues and contributions from 380 members.
In Gratitude, the Latvian Cultural Association TILTS Board
On March 23, 2013 105 persons were elected to TILTS Board:
78 USA, 24 Latvia, 2 Canada, 1 Australia
Līga Aldiņa

Mārtinš Andersons

Dace Štauvere Aperāne

Gundars Aperāns

Anita Štelmane Auzenberga

Juris Baidiņš

Valdis Bašēns

Raimonds Baumanis

Pauls Berkolds

Klāvs Bērziņš

Laima Rita Bērziņš

Valdis Bērziņš

Varis Brasla

Aira Bungs

Sarma Cālīte

Ingrīda Cāzere

Aleksandra Cigusis

Jānis Cigusis

Anda Cook

Ints Dzelzgalvis

Rolfs Ekmanis

Emīls Elstiņš

Līga Tālberga Gonzalez

Iveta Grava

Daina Gross

Ilze Gulēna

Gunta Harvey

Maija Veinberga Hinkle

Ilze Ievāne

Aina Irbe

Iveta Ivansone

Astrīda Jansone

Amanda Jātniece

Benita Jaundāldere

Līga Jēkabsone

Velga Kalniņa

Edvīns Kalviņš

Maruta Kārklis

Lauma Upelniece Katis

Anna Kepe

Brigita Klauss

Zaiga Voldiņa Klīmane

Daila Krastiņa

Matīss Kukainis

Ilga Kurēns

Andrejs Lazda

Ingrīda Lēvenšteins

Anita Liepiņa

Vizma Maksiņa

Haralds Mazzariņš

Maija Medne

Jānis Melgalvis

Imants Mežaraups

Ilmārs Mežs

Janta Mežs

Ingrīda Muižniece

Māra Newsomne-Sātiņa

Vita Grolle Ozoliņa

Gunārs Ozols

Andris Padegs

Māra Pelēce

Ilze Pētersone

Helga Masena Petrašēvics

Zaiga Alksne Phillips

Baiba Pinne

Marģers Pinnis

Gunta Plostnieks

Zinta Pone

Andrejs Prāmnieks

Maija Priede

Malda Pūtelis

Uldis Raiskums

Pauls Raudseps

Ināra Reinis

Andris Ritums

Laila Michelsone Robiņa

Jānis Robiņš

Anna Čakste Rollins

Ruta Ronis

Anna Rūtiņa

Sandra Sebris

Aija Sedlak

Gunta Puzule Semba

Anita Shreders

Laimonis Siliņš

Gaida Skulte

Pēteris Skulte

Sandra Padega Slokenberga

Astra Strobel

Ruta Krūze Strobele

Jānis Students

Ivars Timbers

Una Tone

Rita Gāle Uibo

Mudīte Upatniece

Normunds Vīksne

Marcis Voldiņš

Katrīne Čakste Wilson

Ruta Zadziorska

Diāna Dumpe Zaķis

Pēteris Zariņš

Ģirts Zeidenbergs

Māra Zemdega

Astra Pētersone Zemzare

Kārlis Zvejnieks
Thank you!
Pēters Vecrumba is our Webmaster – he designs the graphics for the TILTS web page www.tilts.org and updates its contents. Thank you, Pēters!
Thanks to all who have helped in the past and are helping now in mailing our annual report.
Thanks to TILTS Audit Committee, which is helping our treasurers Juris Baidiņš and Jānis Melgalvis take care of TILTS books:


Pēteris Ans
Astra Kleinhofs-Strobel
Laris Krēsliņš
This review in Latvian and English has been prepared by Andris Padegs.