Annual Review — 2012
February, 2013

Ģirts Zeidenbergs

Andris Padegs
Dear Members and Supporters of TILTS!
Here is a review of our 2012 activities as well as our plans for this year and next. On the following pages we describe the events and the performances we have arranged, but, additionally, here we would like to give you an insight into the issues we face in selecting the artists and arranging their tours.
Great changes have taken place within the last 50 – 60 years. When many years ago the "Saules Josta" ensemble visited us from Australia, the performance in the New York area drew some 600 spectators and probably even a bigger audience in Toronto. Receipts from such a tour easily covered expenses. On the other hand, our recent carefully planned and well-advertised "Gūsteknis pilī" tour, where the attendance ranged from 31 to 184, had a deficit of over $2,000 even after $11,000 support from central Latvian organizations.
What are we doing to balance the budgets? A major part of the expense is for travel – airfare and car rental for our recent tour came to $3,500 per person. There is not much we can do about it except try to limit the number of travelers. But a major expense is also the artist's honorarium. Whereas a professional artist in the USA would expect $1,000 and more for each performance, TILTS attempts to arrange tours with outstanding artists for whom financial profit is not the main objective of an American tour. Even though the honorariums in Latvia are lower, they still add up to a significant amount. Therefore, we are thankful to artists from Latvia who are willing to present high-quality performances for less than the market price. The honorarium of actors in "Gūsteknis pilī" came out to $71 per actor per performance. This was really a gift the audience. It should be noted that for an ensemble of five artists participating in a tour of 10 cities each $20 in the honorarium adds $1,000 to the budget.
In order to reduce the relative cost of travel, we are always attempting to maximize the number of cities included in a tour. On the other hand, places with small attendance do not cover the expenses. Another problem is that popular artists cannot afford the time to spend a month on an American tour.
The unavoidable result is that income from a tour usually does not cover expenses, and it is necessary to secure some outside support. TILTS is grateful to the American Latvian Association, Latvia's Kultūrkapitāla Fund and to Latvian Foundation for their recent support. Such support will be needed also in the future.
We mail this report to all members of TILTS and, additionally, we provide either soft or hard copy to people who are not yet members. We wish you a prosperous and healthy year! To those of you who have supported us in the past we thank you for your trust. To all who appreciate the value of Latvian culture, we ask for your support. Become a TILTS member and attend performances sponsored by TILTS. By attending such performances you are providing financial support for the tours and improving our ability to arrange visits by the most popular artists.
Ģirts Zeidenbergs
Chairperson
Andris Padegs
Executive Vice Chairperson

Marcis Voldiņš
Theatre
"Dailes" Theatre tour with Raimonds Staprāns' drama "Gūsteknis pilī" took place August 20 to September 20, 2012, covering 13 cities in the USA, plus Toronto. The tour started with four cities in California and ended in the East in Priedaine, NJ. The show had seven actors, plus the director Kārlis Auškāps, who gave a short speech before each performance and from then on became a stagehand helping with lights and sounds.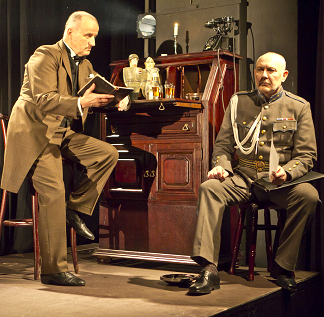 A scene in "Gūsteknis pilī" performance (Photo G.Janaitis)
This was one of the biggest TILTS tours, and, according to the "official" data from the organizers of each performance, the show was viewed by a total of 1,283 people. The tour was big in the number of cities and viewers as well as TILTS's budget – $33,471 (this did not include the income and expense of each performance). ALA supported the tour with an award of $5,000, Latvia's Kultūrkapitāla fonds with $1,429 and Latvian Foundation with $4,650. In spite of this outside support, TILTS had to cover a deficit of over $2,000, and some of the smaller places had to contribute from their own funds to cover the their share of TILTS expenses.
The drama "Gūsteknis pilī" is about the last days of Latvia's president Kārlis Ulmanis in his office in the castle of Riga after the invasion by the soviet army. Raimonds Staprāns wrote the play based on the recollections of Oskars Neimanis, the commander of the castle. It describes the conflicts of the day and the difficult and controversial decisions Ulmanis had to make, as imagined by the author. Even if some viewers may have felt that the president was depicted as too indecisive, most appreciated and praised the performances.
Thanks to the local organizations arranging the performances and thanks to everybody for the financial support. The tour was arranged by Marcis Voldiņš.

Jānis Students
Popular Music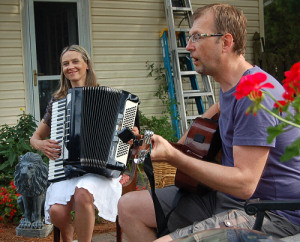 Inita Āboliņa and Normunds Kietis before the concert
"Lauku Muzikanti" with Normunds Ķietis un Inita Āboliņa performed for 500 attendees at the 2012 St. Johns festival in Priedaine, NJ, arranged by the New Jersey Latvian Society. TILTS supported the artists with a grant of $1,000 for the expense of P3 visas and organized concerts in Boston on June 21 and in Washington, DC on June 27, with an audience of 80 in each of these concerts.
These artists had visited us before, and their concerts always have been appreciated and well attended.
Jānis Students organized the tour, assisted by Jānis Bibelnieks. Kaspars Krēsliņš helped to make the arrangements in Washington, DC.


Dace Aperāne
Classical Music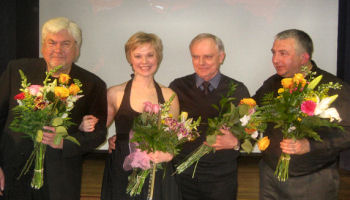 From left: Valts Pūce, Dita Krenberga, Pēteris Apse, Gundars Āboliņš
Anna Sakse's Musical "Pasakas par Ziediem" was performed in April 2012 in five Latvian communities: Cleveland, Chicago, Minneapolis, Philadelphia and New York. The show had four participants: Gundars Āboliņš (story teller), Dita Krenberga (flute), Valts Pūce (piano) and Pēteris Apse, who illustrated the show with his own slides of flowers in bloom.
This tour was dedicated to the memory of Rūta Grava, a member of TILTS board who died in 2011. It was financed in part by funds contributed to TILTS in her memory, a total of $5,310. The receipts from the tour, however, did not cover the expenses of $15,825, and TILTS had to contribute almost $4,000 to cover the deficit
Dace Aperāne organized the tour. This was the first tour that TILTS has arranged in cooperation with The Latvian State Agency "Latvijas Koncerti" (www.latvijaskoncerti.lv).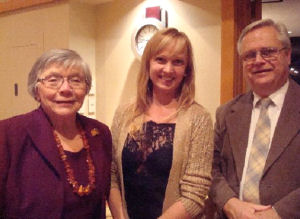 Una Tone (in the middle) with organizers of the concert in Cleveland – Maija Grendze and Pēteris Briedis
Violinist Una Tone presented three concerts at Latvian communities in October of 2012. In Cleveland and Detroit the pianist Rūdolfs Ozoliņš accompanied Una and ALA supported the concerts; in Minneapolis the concert was supported by the Minneapolis Latvian Association and the pianist Gunta Kalmīte-Skujiņa provided accompaniment.
The programs included compositions by Latvian and other composers, and the concerts were well attended. The reviews were very favorable – "Una Tone has complete control over her instrument, and her interpretation was inspiring".
The concerts were arranged by the Cleveland Latvian Concert Association headed by Anda Sūns Cook, the Detroit Latvian Association headed by Līga Jēkabsone, and the Minnesota Latvian Concert Association headed by Valdis Miķelsons. The organizers of the concerts have been cooperating with TILTS for many years, and they had favorable comments about this relationship. TILTS, too, appreciates this relationship and would like to thank the organizers for the excellent cooperation. Dace Aperāne organized the tour.
History Projects Fund
The History Projects Fund awards funds that have been specifically contributed to one of the history projects managed by TILTS. In 2012 there were two such projects: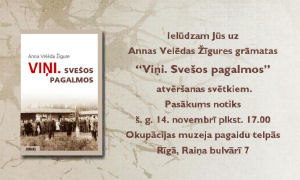 Anna Žīgure book "Viņi". This project was established in 2006 to cover the expenses of Anna Žīgure in the preparation of her book about Latvians leaving their homeland during the Second World War and their life in the Displaced Persons (DP) camps in Germany. The first volume "Viņi. Ceļā" was published by Jumava in December of 2009. The second volume, "Viņi. Svešos pagalmos", was published in 2012. The Fund has awarded a total of $6,050 to Mrs. Žīgure. The Fund does not solicit additional money for this project.
Book About Music Camps. This project was established under the leadership of Dace Aperāne to support the book by the Latvian Academy of Music and the publisher Musica Baltica about the International Latvian Young Musicians' Camps - Master Classes. The camps were held in Canada from 1985 to 1990 and in Latvia since 1994 for a total of 13 camps. Some 1,250 young musicians have attended these camps, with faculties consisting of outstanding professionals from Latvia and other countries.
The book was released during the X International Latvian Young Musicians Camp on July 15, 2012 in the Sigulda School of Arts. The Fund has received a total of $50, which was used to cover part of the expenses of the publication. The Fund does not solicit additional money for this project.

Gunta Plostniece
Choir Concerts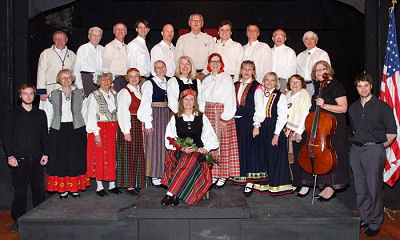 Philadelphia Latvian Concert Choir with Gunta Plostniece (at front)
The Philadelphia Latvian Concert Choir under the direction of Gunta Plostniece presented three concerts in 2012: in Philadelphia on November 17, at Priedaine, NJ on November 18, and the Christmas concert in Philadelphia on December 23. The concerts were held at the initiative of and with $1,000 support from TILTS.
The Christmas program included classical Latvian solo pieces, which were sung by the bass Andrejs Martens. The solo parts in the choir program were performed by Laila Medne, Pauls Barbins and Guna Pantele. The string quartet, including Guna Puntel, Augustins Tighe, Linda Aļļe, Andris Zvārgulis and Andrew Puntel participated in the final piece "Manai dzimtenei" by Raimonds Pauls.

Laila Robiņa
Exceptional Young Artists Fund
The Exceptional Young Artists Fund, under the leadership of Laila Robiņa and with the help of Baiba Pinne and Anna Ķepe, in 2012 made grants with total value of $2,100 to:
In 2011 the Fund received $150 in donations. TILTS values very highly the support the contributors are providing to the young artists as well as the trust they have demonstrated in TILTS's administration of the funds. In its lifetime, the Exceptional Young Artists Fund has awarded a total of over $150,000 to over 30 young artists. The Fund makes awards only from contributions donated specifically to this Fund. Contributions to the Fund can be made by sending a check, written to "Latvian Cultural Association TILTS, Inc.", to TILTS, c/o Laila Robins, 241 Central Park West Apt. 14H, New York, NY 10024.

Dace Aperāne
Music Camp Fund
TILTS has been supporting the International Latvian Young Musicians' Camps - Master Classes for many years. From now on the support will be through the Music Camp Fund, managed by Dace Aperāne with the participation by Anda Sūna Cook and Gunta Semba. The immediate purpose of the fund is the support of the XI International Latvian Young Musicians' Camps - Master Classes that will take place June 30 to July 9, 2014 at the Sigulda School of Arts "Baltais Flīģelis".
In 2012 the Music Camp Fund received $5,180 in donations; including a $2,500 contribution from Anita Kupriss, $2,500 inheritance from Brigita Greenwoods, and $180 contributed in memory of Māra Dole. $5,050 was paid to the X International Latvian Young Musicians' Camps - Master Classes that took place July 14 to 23, 2012 in Sigulda.
Contributions to the Music Camp Fund can be made by sending a check to TILTS Treasurer, written to "Latvian Cultural Association TILTS, Inc.", with a note explaining its purpose.
Support
In 2012 TILTS board awarded a total of $2,450.00 as follows (this does not include awards by the Exceptional Young Artists Fund nor by the History Projects Fund):
$500.00 to Māra Pelēce and Mārtiņš Sīmanis for the creation of video stories "Rīga Dimd" for distribution on the Web. In the words of Māra: "We are going to create a series of videos about the unique attributes of Latvian music in exile. We will start with at least six pieces, each some 10 minutes long. We will try to understand in depth the motivation of composers and performers and their creative process. What was the interaction with the public? How did each side affect the other?"
$800.00 (400.00 lats) to the Society for Openness Delna in Latvia.
$350.00 (700 lats) to the organization Par latviešu valodu (For the Latvian Language) to support the campaign against the adoption of Russian as the second national language in the national referendum in Latvia in February 2012.
$200.00 to the organizers of the concert with Peteris Vasks music that was held May 8, 2012 at the Park Avenue Christian Church, 1010 Park Ave., New York, NY.
$1,000.00 - to the X International Young Latvian Musician Master Classes in Sigulda, Latvia, which took place at the Sigulda Music School, Latvia, July 14 - 23, 2012.
Other Events of 2012
Ints Dzelzgalvis and Līga Jēkabsone represented TILTS at the 2012 ALA Congress. 76 persons had joined ALA as members of TILTS, including 6 dzintara (amber) life members.
Dace Aperāne, Anna Ķeppe and Una Tone represented TILTS in 2012 at the Council of New York Latvian Organizations.
On March 10, 2012 TILTS held its annual membership meeting at the Daugavas Vanagu House in Bronx, NY. A board meeting preceded and another one followed the annual meeting. The membership elected 104 members to the board. The board elected the same officers as last year.
In two separate shipments on September 17 and November 16, 2012 TILTS sent books and periodicals collected from Latvian homes to the Latvian National Library in Riga for distribution to schools and libraries. A total of 391 boxes, with a weight of 6,655 kg (over 7 tons), were shipped through the Latvian American Shipping Line (Andris Padegs).
Events Planned for 2013 and 2014
In cooperation with the Latvian Organist Guild - USA (LEGA), TILTS is arranging a tour with organist Kristīne Adamaite and saxophonist Artis Sīmanis for April 2013. They will perform at the North American Latvian Organist Festival in Philadelphia on April 13 and 14 (www.latvianluthchurchphila.org), in New York City April 17 (www.parkavenuechristian.com), Washington, DC on April 19 (www.nationalcitycc.org), Minneapolis April 21, and Cleveland April 26. Support is provided by the following organizations: TILTS, LEGA, Concert Associations of Cleveland and Minnesota, and Latvia's Kultūrkapitāla fonds (Dace Aperāne).
Minneapolis folklore ensemble Teiksma will perform in San Francisco on April 20 at 16:00 and Los Angeles on April 21 at 13:00 (Zinta Pone).
The New Jersey Latvian Asociation is arranging a performance by the ensemble "Gain Fast" with the singer Kaspars Zlidnis at the 2013 St. John's festival in Priedaine, NJ. With TILTS support, a tour may be possible, including Boston and Gaŗezers (Jānis Students)
The 2013 Gathering in Riga of Latvians from the world is planned for Sunday June 30 from 1:00 PM to 5:00 PM at the Riga Latvian Society. PBLA and Latvian Foundation have joined in organizing the event. Since space is limited to some 300 attendees, reservations are necessary. Make reservations by e-mail girtszeidenbergs@comcast.net or girtszeidenbergs@gmail.com, or by telephone SKYPE 'girtszeidenbergs33', or, till 10.5.2013, 302 529 7442 (USA). In Latvia call Astrīda Jansone +371 2921 0929 or after 13.5.2013 Ģirts Zeidenbergs +371 2640 7697.
The Valmiera Theatre is scheduled to have an American tour with Anšlāvs Eglītis "Bezkaunīgie Veči" in September 2013 (Marcis Voldiņš)
A tour of the popular trio "Šmite Kārkle Cinkuss" is planned for the fall of 2013 (Maruta Kārklis).
Performances by the Minneapolis folklore ensemble Teiksma are planned for the 2013 independence day celebration in November in Philadelphia and Priedaine (Zinta Pone).
2012 Finances
The following table summarizes TILTS 2012 receipts and disbursements.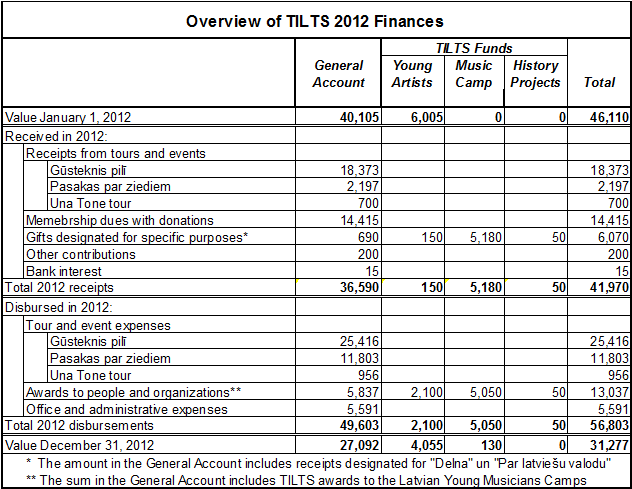 The values in the table do not agree with the amounts listed in the earlier text for the following reasons:
The award amounts are often paid out in a subsequent year.
The transactions for income received and expenses paid do not necessarily take place in the same year as the tour or event.
All money associated with a tour or event does not necessarily pass through TILTS; expenses are often paid directly from receipts. Also, in accordance with a previous agreement, the money that is due to TILTS for arranging the tour is sometimes paid by the local organizers directly to the performers to cover their expenses.

Juris Baidiņš
Membership
In the past we have planned most of our cultural events so that they would pay for themselves. This, however, has become impossible, as the size of our audiences keeps shrinking and the expenses for artists from Latvia keep rising. We also need contributions for our projects associated with support of education and other cultural activities. We have not increased membership dues so that the amount of the dues would not be an obstacle for those with limited resources.
Please help us carry out our programs and become a member of TILTS! Donations for TILTS membership start at $15.00. Make the check payable to "Latvian Cultural Association TILTS, Inc." and forward
in the USA to: Treasurer Juris Baidins, 104 Windon Drive, Wilmington, DE 19803
in Canada (in Canadian dollars) to: Ivars Timbers, 1921 Poppy Lane Pickering, ONT L1V 2T4
In the USA, donations to TILTS are tax-deductible. No TILTS board member receives any compensation for any of her or his services.
With Gratitude, the Board of the Latvian Cultural Association TILTS
On March 10, 2012 104 persons were elected to TILTS Board: 76 USA, 25 Latvia, 2 Canada, 1 Australia
Līga Aldiņa

Mārtinš Andersons

Dace Štauvere Aperāne

Gundars Aperāns

Anita Štelmane Auzenberga

Juris Baidiņš

Valdis Bašēns

Raimonds Baumanis

Lilita Bergs

Pauls Berkolds

Klāvs Bērziņš

Laima Rita Bērziņš

Valdis Bērziņš

Varis Brasla

Aira Bungs

Sarma Cālīte

Ingrīda Cāzere

Aleksandra Cigusis

Jānis Cigusis

Anda Cook

Ints Dzelzgalvis

Rolfs Ekmanis

Emīls Elstiņš

Līga Tālberga Gonzalez

Iveta Grava

Daina Gross

Ilze Gulēna

Gunta Harvey

Maija Veinberga Hinkle

Ilze Ievāne

Aina Irbe

Iveta Ivansone

Astrīda Jansone

Amanda Jātniece

Benita Jaundāldere

Līga Jēkabsone

Velga Kalniņa

Edvīns Kalviņš

Maruta Kārklis

Lauma Upelniece Katis

Anna Kepe

Uldis Klauss

Zaiga Voldiņa Klīmane

Daila Krastiņa

Matīss Kukainis

Ilga Kurēns

Andrejs Lazda

Ingrīda Lēvenšteins

Anita Liepiņa

Vizma Maksiņa

Haralds Mazzariņš

Maija Medne

Jānis Melgalvis

Imants Mežaraups

Ilmārs Mežs

Janta Mežs

Ingrīda Muižniece

Māra Newsomne-Sātiņa

Vita Grolle Ozoliņa

Gunārs Ozols

Andris Padegs

Māra Pelēce

Ilze Pētersone

Helga Masena Petrašēvics

Zaiga Alksne Phillips

Baiba Pinne

Marģers Pinnis

Gunta Plostnieks

Zinta Pone

Maija Priede

Malda Pūtelis

Uldis Raiskums

Pauls Raudseps

Ināra Reinis

Andris Ritums

Laila Michelsone Robiņa

Jānis Robiņš

Anna čakste Rollins

Anna Rūtiņa

Sandra Sebris

Aija Sedlak

Gunta Puzule Semba

Shrederis Anita

Laimonis Siliņš

Gaida Skulte

Pēteris Skulte.

Sandra Padega Slokenberga

Ruta Krūze Strobele

Jānis Students

Ivars Timbers

Una Tone

Rita Gāle Uibo

Mudīte Upatniece

Normunds Vīksne

Marcis Voldiņš

Katrīne Čakste Wilson

Ruta Zadziorska

Diāna Dumpe Zaķis

Dace Micāne Zālīte

Pēteris Zariņš

Ģirts Zeidenbergs

Māra Zemdega

Astra Pētersone Zemzare

Kārlis Zvejnieks
Thank you!
Pēters Vecrumba is our Webmaster—he designs the graphics for the TILTS web page www.tilts.org and updates its contents. Thank you, Pēters!
Thanks to all who have helped in the past and are helping now in mailing our annual report, particularly to Mudīte Prāmniece.
Thanks to TILTS Audit Committee, which is helping our treasurers Juris Baidiņš and Jānis Melgalvis take care of TILTS books:

Pēteris Ans
Astra Kleinhofs-Strobel
Laris Krēsliņš
This review in Latvian and English has been prepared by Andris Padegs.