Annual Review — 2009
April, 2010

Ģirts
Zeidenbergs

Andris Padegs
Dear Members and Supporters of TILTS!
We would like to present here a brief review of our major activities of 2009 and our plans for 2010.
We are mailing this review to members of TILTS and also to many who are not yet members, particularly to those who have recently arrived in the USA from Latvia. One of the aims of TILTS is to help people of Latvian heritage preserve their culture and keep their Latvian identity, and one of the ways TILTS accomplishes this is by arranging tours of Latvian theatre and music ensembles.
We will continue to provide the cultural programs, but we have to face now two obstacles. First of all, the audiences of our concerts and theatre performances are shrinking, and for most tours income does not cover expenses. We need additional support, which we have been requesting from the American Latvian Association, from the Latvian Foundation or both. But we cannot always count on receiving it.
Starting with 2008, the USA government has introduced new regulations and procedures for the admission of performers from abroad by requiring Petition I-129/P and the possession of the P visa. The paperwork for the new procedure, which is stated to be for the purpose of homeland security, requires detailed information on the proposed tour and an approval by the respective US artist union. The procurement of the visa may take up to half a year and incur a cost of over $1,000. As a result, the process has to be started well in advance and has to consider the possibility of rejection, in which case performances and travel arrangements have to be cancelled. This places a significant burden on those arranging the tours and ads to the cost.
We will continue to arrange tours by artists from Latvia, but because of the additional work and cost we may have to forsake some opportunities.
We wish you a prosperous and healthy year! To those of you who have supported us in the past we thank you for your trust. To all who appreciate the value of Latvian culture, we ask for your support. Become a TILTS member and attend performances sponsored by TILTS. By attending such performances you are providing financial support for the tours and improving our ability to arrange visits by the most popular artists
Ģirts Zeidenbergs
Chairperson
Andris Padegs
Executive Vice Chairperson

Astra Zemzars
Classical Music
Pianist Armands Ābols performed in six places in his May 2009 tour. The program included music of Latvian composers as well as world classics. He appeared in four cities under the auspices of Latvian organizations (Kalamazoo, Cleveland, Minneapolis and Chicago). In Rochester (MN) the concert was a part of the Festival of Music series. In Washington, D.C. he was invited to perform at the US-Baltic Foundation Celebration honoring H.E. Valdis Zatlers, President of Latvia, and also at the Embassy of Latvia for a select audience.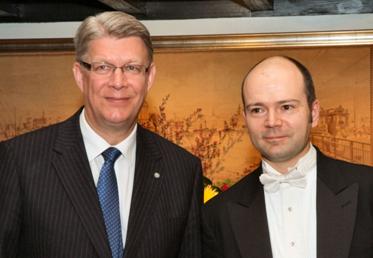 President Valdis Zatlers and pianist Armands Ābols in Washington, D.C.
TILTS has organized tours for Armands Ābols since 1992 and has given audiences throughout the US opportunity to hear this amazingly talented pianist. In Rochester, where he appeared for the first time, the consensus was, "We were treated to a concert of a lifetime! Wow! What a talented musician! The power and music that came out of that piano was amazing, and yet almost seconds later the piano was overwhelmed with simplicity and gentleness." The concert organizers are eagerly anticipating presenting more of Latvia's outstanding musicians.
Since Mr. Ābols retains Latvian citizenship, the preparatory work included applying for the special professional musicians visa (P-3). Līga Aldiņš and the Latvian Embassy in Washington helped with the formalities. The documentation to the Musicians Union and Homeland Security totaled 76 pages with fees of $1570.
The tour incurred a small deficit in spite of support from ALA Kultūras Fonds with an award of $1200. The tour was organized by Astra Zemzars.
Jānis Bībelnieks

Jānis Students
Popular Music
The Three Tenors – the tenors from the Latvian National Opera Miervalds Jenčs, Nauris Puntulis, Guntars Ruņģis with the pianist Gints Bērziņš participated in one of the most extensive tours ever arranged by TILTS, performing in 18 Latvian centers. This was their third TILTS tour. It started in the Catskills Latvian camp on August 22, then the artists covered the Latvian centers on the East Coast before heading to Seattle, San Francisco and Los Angeles, and the tour ended with a concert in Florida.
The tenors presented opera arias as well as some popular music and were very well received. A total of over 2000 people heard them. Income from the tour covered all expenses. The tour was organized by Jānis Bībelnieks un Jānis Students

Marcis Voldiņš
Theatre
Liepājas Theatre tour with Miro Gavrana play "Viss par vīriešiem" (All About Men) took place on the US East Coast in September-October with performances in Boston, New York, Priedaine (NJ), Philadelphia, Cleveland, Chicago, Toronto and Washington D.C. Three actors – Egons Dombrovdskis, Leons Leščinskis and Kaspars Gods – and the assistant director Rita Krodere participated in the tour.
The tour was well received, and a total of some 760 people saw the show. Income from the performances, however, did not cover expenses, and TILTS had to contribute over $3,000.
Teātra TT tour with a play by Lauris Gundars "Tiritomba jeb Zelta Zivtiņa" took place in October and covered seven cities: Portland, Seattle, San Francisco, Denver, Minneapolis, Priedaine and Washington D.C. The Latvian ambassador invited the actors to visit the embassy before the performance in Washington, and the actors appreciated the opportunity to meet with him.
The play is about comical misunderstandings when a lonely woman comes to a cafe to meet a man she found through a marriage add in a paper. The actors were from different Latvian theatres –Velta Straume and Juris Strenga from Dailes Theatre, Anna Putniņa and Arnolds Osis from Valmieras Theatre. The director was the author Lauris Gundars. A total of some 530 people saw the show, which was well received, particularly the professional level of acting.
Even with the support of $2,000 from the Latvian Foundation the tour incurred a significant deficit.
Māra Theatre tour with the play "Kronis 2" by Lelde Stumbre was planned on the West Coast, but had to be cancelled because of difficulties with petition I-129/P formalities. TILTS had requested P-3 visas for both actors, and the petition was approved. But when the actors arrived in Minneapolis from Europe on their way to the West Coast, they did not have the paperwork with them. After a difficult and degrading questioning the immigration authorities did not let them proceed and placed them on the next return flight back to Europe. This tour is now planned to take place in the spring of 2011.
This was a painful reminder that the US immigration authority requirements need to be fulfilled literally. TILTS expenses associated with this failed tour were $4,797, of which $4,631 were incurred in 2008..
All theatre tours were organized by Marcis Voldiņš.

Laila Robiņa
Exceptional Young Artists Fund
The Exceptional Young Artists Fund, under the leadership of Laila Robiņa and with the participation of Baiba Pinne and Anna Ķepe (Anna has replaced Jānis Cigūzis), in 2009 made grants with total value of $42,300 to the following young artists:
In 2009 the Fund received a total of $9,000 from the following generous contributors: Māra Dole and Ludmilla Loane. TILTS values very highly the support the contributors are providing to the exceptional young artists as well as the trust they have demonstrated in TILTS's administration of the funds. At the end of the year the fund balance was $13,035.
The Fund makes awards only from contributions donated specifically to this Fund. Contributions to the Fund can be made by sending a check, written to "Latvian Cultural Association TILTS, Inc.", to TILTS, c/o Laila Robins, 241 Central Park West Apt. 14H, New York, NY 10024.
In its lifetime, the Exceptional Young Artists Fund has awarded a total of over $150,000 to over 30 young artists.

Lilita Bergs
History Projects Fund
The History Projects Fund, managed by Lilita Bergs with the assistance of Aivars Keire and Baiba Pinne, in 2008 received a total of $440 in contributions. Since it's founding in 2006 the fund has received a total of $5,850.
The fund's current objective is to cover the expenses of Anna Žigure in the preparation of her book about Latvians leaving their homeland during the Second World War and their life in the Displaced Persons (DP) camps in Germany. The author has now collected so much material that two volumes are planned. The first volume "Viņi. Ceļā" was published by Jumava in December of 2009 and was sold out by February of 2010. A new edition is forthcoming. The ALA Education Department is using this book for its reading program.
In 2009 the Fund awarded to Mrs. Žigure $1,650. A total of $5,650 has been paid to the author, and the year-end balance of the Fund is $200.
Meetings in Latvia
To facilitate interaction with and among people who have moved to Latvia from the West, particularly among the members of TILTS, on August 2, 2009 TILTS arranged a gathering of Latvians of the world at the Čarlestons Restaurant in Rīga. The meeting was organized by Ģirts Zeidenbergs with the help from board member's Edvīns Kalviņš company "Tehniskie Partneri".
Some 130 people participated from USA, Australia, Canada, Latvia, Germany and Sweden.
To continue this tradition, a similar meeting is planned for June 27, 2010 12:00 noon to 3:00 PM, same place. There will be buffet type food, admission will be 15 lats (same as last year). The facilities have a strict limit of 150 seats, and therefore timely registration is advisable with the following: Ģirts Zeidenbergs, girtszeidenbergs@comcast.net or girtszeidenbergs@gmail.com , Tel 302 529 7442, Skype: 'girtszeidenbergs33'; Astrīda Jansone Tel.371 6729 7157; Velga Kalniņa velgakalnina@gmail.com; or Indra Sproģe-Kalviņa indra.sproge@tpriga.lv, Tel. 371 2961 1205, or Edvīns Kalviņš ed.kalvins@tpriga.lv, Tel. 371 2925 5223.
Support
In 2009 TILTS board awarded a total of $6,500 as follows (this does not include awards by the Exceptional Young Artists Fund nor by the History Projects Fund):
$250 to Rīga Latvian Society for the Knuts Lesiņš centennial anniversary musical-literary program.
$500 to Elizai Bent, Editor, American Theatre Magazine, to fund in part her trip to Riga to attend the "Latvian Theatre Showcase" and write a report on the festival in her magazine, which is the leading magazine on theatre in the USA.
$1,000 as a contribution to the fund to acquire rights for the materials used in the film "The Soviet Story" so that the film could be publicly shown, including TV.
$2,000 to the IX International Young Latvian musician Masterclasses in Sigulda, Latvia, in 2010.
$1,000 to Lita Beiris, ballerina from Latvia, to partially fund her trip to New York where she was invited as a judge in a ballet competition.
$300 to Armands Ābols to reimburse him for his expenses incurred in the preparation of a compact disk with the music he played in the TILTS tour.
$500 to Latvian Music Academy for publication of Jāzeps Vītols music.
$1,000 to Antra Dreģe for the preparation of a compact disk with music recorded at the former Kolibri ensemble performances.
Other Events of 2009
Ints Dzelzgalvis and Lilita Bergs represented TILTS at the 2009 ALA Congress. TILTS had 81 mandates.
Dace Aperāne and Baiba Pinne represented TILTS at the Council of New York Latvian Organizations. Both were elected to its board.
On March 21, 2009 TILTS held its annual membership meeting in Bedford, NY. A board meeting preceded and another followed the annual meeting. The membership elected 124 members to the board.
In three separate shipments TILTS sent books and periodicals collected from Latvian homes to the Latvian National Library in Riga. A total of 236 boxes, with a weight of 8000 pounds, was shipped through the Latvian American Sipping Line.
In December of 2009 "Latvijas Avīze" interviewed by telephone Ģirts Zeidenbergs and Andris Padegs about the significance of cultural contacts in the preservation of Latvian identity abroad. The article compared the situation in Siberia, Ireland and the USA.
Thanks to the support by TILTS, a compact disk with Kolibri music "Kolibri atskatās" has been released. It has received good reviews both in Latvia and the USA.
The author Juris Rozītis gave a lecture on "Latvian novels" at the annual meeting of he Latvian Foundation in October of 2009 in Philadelphia. A lecture tour covering other Latvian centers was planned, but had to be cancelled because of conflicts in schedule (Valdis Bašēns).
Diana Baibusa-Zandberga performed at 2009 Latvian independence day concerts in Boston un Philadelphia, and Mārcis Kuplais performed in Philadelphia and Minneapolis in December. Dace Aperāne coordinated the participation of the artists. Both artists had previously received support from the TILTS Exceptional Young Artists Fund.
Events Planned for 2010 and 2011
The folk-song ensemble "Teiksma" (founded in 1970) from Minneapolis, MN with the program "Dienu, nakti ritināju savu dziesmu kamoliņu" will perform as follows: New York May 14, Philadelphia May 15, and Priedaine May 16. The ensemble has 12 members of various ages, and they will sing folk songs accompanied by kokle, accordion, violin and other instruments (Zinta Pone).
Arranged by TILTS, Political scientist Ivars Ījābs lectured in Los Angeles on April 25 and will lecture in Philadelphia on May 23 on "Latvia before Election of 10th Saeima". He is available to present this lecture at other centers before returning to Latvia in the middle of July. Contact Ģirts Zeidenbergs before June 15 to arrange a lecture.
On June 27, 2010 12:00 to 3:00 PM a meeting of the Latvians of the world will take place in Riga at the Čarlestons restaurant. See the section Meetings in Latvia on how to register for it. (Edvīns Kalviņš and Ģirts Zeidenbergs).
A tour with a play from a theatre from Latvia is being planned for the fall of 2010 or later. Possibilities: Liepājas theatre with "Viss par Sievietēm" or Rīga ensemble with "Vara mani lielu dara" (Marcis Voldiņš).
Vestards Šimkus participation is being considered for 2010 November 18 concerts.
A tour by the ensemble "Eolika" is being considered for the fall of 2010. This group presents music in the style of Swedish ensemble "ABBA".
A tour with the play "Kronis 2" is planned for the west coast for 2011 (Marcis Voldiņš).
A tour by the folk ensemble "Ilģi" is a possibility for the fall of 2010 or later. The group was established 30 years ago. (Benita Jaudāldere).
2009 Finances
The following table summarizes TILTS 2009 receipts and disbursements These are funds that have actually been received and paid (cash basis).

The values in the table do not agree with the amounts listed in the earlier text for the following reasons:
The award amounts are often paid out in a subsequent year.
Occasionally TILTS coordinates support of cultural projects with additional support from other organizations and the disbursement in the table is the total amount of support provided (e.g., ALA contributed $500 to the support of Elizai Bent trip to Riga);
For some tours the amounts do not yet reflect all receipts expected.
Thank You!
Pēters Vecrumba is our Webmaster – he designs the graphics for the TILTS web page

www.tilts.org

and updates its contents. Thank you, Pēters!
Thanks to all who have helped in the past and are helping now in mailing our annual report to some 2500 families, particularly to Mudīte Prāmniece.
Thanks to TILTS Audit Committee, which is helping our treasurers Juris Baidiņš and Jānis Melgalvis take care of TILTS books:

Ervīns Kurēns
Andrejs Prāmnieks
Anita Shrēdere

Juris Baidiņš
Membership
We plan most of our cultural events so that they would pay for themselves. This, however, is becoming more and more difficult, as most of our artists are from Latvia and the size of our audiences keeps shrinking. We also need contributions for our projects associated with support of education and other cultural activities. No TILTS board member receives any compensation for any of her/his services.
Please help us carry out our programs and become a member of TILTS. Donations for TILTS membership start at $15.00. Please make the check payable to "Latvian Cultural Association TILTS, Inc." and forward
in the USA to:
Treasurer Juris Baidins
104 Windon Drive
Wilmington, DE 19803
in Canada (in Canadian dollars) to:
Ivars Timbers
1921 Poppy Lane Pickering
ONT L1V 2T4.
In the USA, donations to TILTS are tax-deductible.
Recognition
We are gratified that, with our support, the President of Latvia has bestowed recognition to the following:
Juris Padegs - IV class Triju Zvaigžņu ordenis
Reminder
Participate in the election of the 10th Saeima on October 2! Only those with a valid Latvian passport will be able to vote. Check the validity of yours!
TILTS is advising its board members to request their local Latvian organizations to form task forces that would assist local Latvians to obtain rights to vote by mail without having to mail their passports through the US mails.
With Gratitude, the Board of the Latvian Cultural Association TILTS
The TILTS board in 2009 had 124 members: 87 USA, 33 Latvia, 3 Canada, 1 UK:
Līga Aldiņa

Mārtinš Andersons

Dace Štauvere Aperāne

Gundars Aperāns

Anita Štelmane Auzenberga

Juris Baidiņš

Valdis Bašēns

Raimonds Baumanis

Lilita Bergs

Pauls Berkolds

Klāvs Bērziņš

Laima Rita Bērziņš

Valdis Bērziņš

Jānis Bībelnieks

Varis Brasla

Aira Bungs

Sarma Cālīte

Ingrīda Cāzere

Aleksandra Aldermane Cigusis

Jānis Cigusis

Anda Cook

Ints Dzelzgalvis

Rolfs Ekmanis

Emīls Elstiņš

Ingrīda Erdmanis

Līga Tālberga Gonzalez

Iveta Grava

Rūta Grava

Silvija Griffin

Daina Gross

Ilze Gulēna

Maija Veinberga Hinkle

Ilze Ievāne

Aina Irbe

Edīte Mūrniece Irbe

Iveta Ivansone

Astrīda Jansone

Sonja Jansone

Amanda Jātniece

Benita Jaundāldere

Līga Jēkabsone

Velga Kalniņa

Imants Kalniņš

Edvīns Kalviņš

Maruta Kārklis

Lauma Upelniece Katis

Aivars Keire

Anna Kepe

Uldis Klauss

Zaiga Voldiņa Klīmane

Jānis Kramēns

Daila Krastiņa

Laris Krēsliņš

Andrejs Lazda

Ingrīda Lēvenšteins

Anita Liepiņa

Vizma Maksiņa

Haralds Mazzariņš

Maija Medne

Jānis Melgalvis

Imants Mežaraups

Ilmārs Mežs

Janta Mežs

Ingrīda Muižniece

Guna Mundheim

Māra Newsomne-Sātiņa

Ēriks Niedrītis

Vita Grolle Ozoliņa

Gunārs Ozols

Andris Padegs

Dzintars Paegle

Viesturs Paegle

Māra Pelēce

Ilze Pētersone

Zaiga Alksne Phillips

Baiba Pinne

Marģers Pinnis

Zinta Pone

Maija Priede

Malda Pūtelis

Uldis Raiskums

Pauls Raudseps

Ināra Reinis

Andris Ritums

Laila Michelsone Robiņa

Jānis Robiņš

Anna čakste Rollins

Andris Runka

Anna Rūtiņa

Inta Rūtiņa

Normunds Rutulis

Sandra Sebris

Aija Sedlak

Gunta Puzule Semba

Laimonis Siliņš

Gaida Skulte

Pēteris Skulte

Raimonds Slaidiņš Jr.

Sandra Padega Slokenberga

Inta Šrādere

Ruta Krūze Strobele

Jānis Students

Māris Stūrāns

Ivars Timbers

Māra Tupese

Tupešu Jānis

Rita Gāle Uibo

Juris Ulmanis

Mudīte Upatniece

Ināra Dermane Vehvilainen

Normunds Vīksne

Valdis Viņķelis

Marcis Voldiņš

Katrīne Čakste Wilson

Ruta Zadziorska

Maija Zaeska

Diāna Dumpe Zaķis

Mārtiņš Zandbergs

Pēteris Zariņš

Ģirts Zeidenbergs

Māra Zemdega

Astra Pētersone Zemzare

Kristīne Zosule

Kārlis Zvejnieks
This review in Latvian and English has been prepared by Andris Padegs.