Annual Review — 2010
April, 2011

Ģirts Zeidenbergs

Andris Padegs
Dear Members and Supporters of TILTS!
Here, with some delay, is a review of our 2010 activities and plans for this year and next.
Our organization was founded in 1968 by a group of Latvians who gathered to commemorate the 50th anniversary of the foundation of the state of Latvia with a presentation, concert and refreshments at Vassar College. Since then the name of the organization has changed from the original "Poughkeepsie Latvian Association" to "Mid-Hudson Latvian Association" until in 1988 we adopted the current name "Latvian Cultural Association Tilts" to more closely reflect our endeavor to establish and maintain cultural contact with Latvia.
We started to establish contact with Latvia at a time when such contact with the country still behind the Iron Curtain was not generally approved. We did it because we felt we needed to be in touch with our roots and because those in Latvia resisting the Soviet occupation needed our support, even if only moral. After Latvia had restored its independence, we provided material support, including the gift of a printing press to the Culture Fund lead by Imants Ziedonis and the collection and shipment of some 60,000 books.
One of the core thrusts of our organization has been fostering the preservation of Latvian identity among Americans of Latvian descent by arranging cultural events. In the last 20 years our programs have consisted mostly of performances by ensembles from Latvia, and we plan to continue arranging such tours. However, we have to face now two types of difficulties. First of all, the attendance at Latvian cultural events has shrunk to the extent that receipts from the events do not cover the expenses of the tours. We have to request financial support from The Latvian American Association, The Latvian Foundation or both. The trouble is that we cannot always count on receiving such support.
Second, starting with 2008, the USA government has introduced new regulations and procedures for the admission of performers from abroad by requiring Petition I-129/P and the possession of the P visa. The paperwork for the new procedure, which is stated to be for the purpose of homeland security, requires detailed information on the proposed tour and an approval by the respective US artists union. The procurement of the visa may take up to half a year and incur a cost of over $1,500. This places a major burden on those arranging the tours and adds to the cost, since we face the possibility of a rejection of the visa after commitments for tickets and facilities have been made.
We will comply with the  requirements and continue to arrange tours by artists from Latvia, but because of the additional work and cost we may have to forsake some opportunities.
We wish you a prosperous and healthy year! To those of you who have supported us in the past we thank you for your trust. To all who appreciate the value of Latvian culture, we ask for your support. Become a TILTS member and attend performances sponsored by TILTS. By attending such performances you are providing financial support for the tours and improving our ability to arrange visits by the most popular artists.
Ģirts Zeidenbergs
Chairperson
Andris Padegs
Executive Vice Chairperson

Astra Zemzars
Classical Music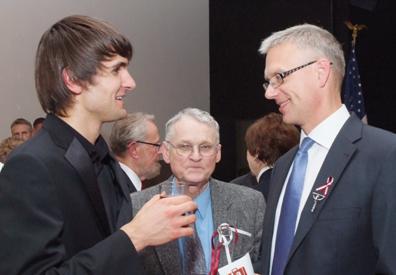 Vestards Šimkus chatting with Krišjānis Kariņš, the speaker at the Latvia's independence-day celebration in Philadelphia, organized by the Free Letts Society. In the back is Ģirts Zeidenbergs.
At the request of Andrejs Pildegovičs, ambassador of Latvia to the USA, TILTS undertook to provide the musical program for the event arranged by the embassy to commemorate the foundation of the state of Latvia on November 18, 1918. The commemorative event took place in the Library of Congress in Washington, DC.
TILTS invited Vestards Šimkus, who had just returned from concert tours in China and Norway, and additionally arranged concerts in Cleveland and Philadelphia to give more people the opportunity the hear this world-renowned pianist.
The tour by Vestards Šimkus was organized by Astra Zemzars and Ģirts Zeidenbergs, including the procurement of the P-3 visa. Approximately a total of 750 people heard Mr. Šimkus play.
In spite of the fact that Latvia's Kultūrkapitāla Fonds supported the concert with a grant of 500 lats ($955), the expenses of the tour did not cover receipts, and TILTS had to cover the deficit of almost $2,000.

Lilita Bergs
History Projects Fund
The History Projects Fund in 2010 was managed by Lilita Bergs with the assistance of Aivars Keire and Baiba Pinne. The Fund's current objective is to cover the expenses of Anna Žigure in the preparation of her book about Latvians leaving their homeland during the Second World War and their life in the Displaced Persons (DP) camps in Germany.
The first volume "Viņi. Ceļā" was published by Jumava in December of 2009 and was sold out by February of 2010. A new edition is forthcoming. The ALA Education Department is using this book for its reading program. The author is now working on the second volume, to be called "Viņi. Svešos pagalmos", to be published by the end of 2011.
In 2010 new funds were not solicited and have not been received. The value of the Fund currently is $200, and a total of $5,650 has been paid to Mrs. Žigure. The Fund disburses only money that has been specifically donated to the Fund.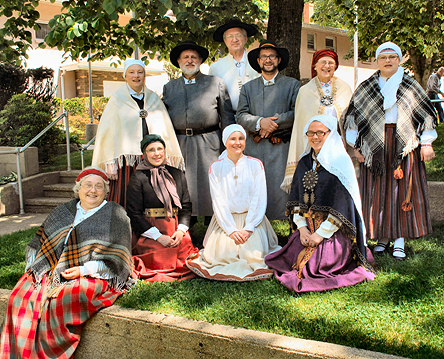 Sitting, from left: Ilze kļaviņa, Zinta Pone (head of the group), Ingrīda Erdmane, Gunta Pone Herona; standing, from left: Nora Lunda, Jānis Skujiņš, Jānis Zeltiņš, Jānis Paulis Skujiņš, Elga Pone, Laila Švalbe.
Ethnic Performances
The Latvian folk ensemble "Teiksma" from Minneapolis, MN, performed in Latvian centers on the East Coast in May, 2010. The members of the group sang Latvian folk songs, accompanied by accordion, violin and the traditional Latvian folk instrument kokle.
The concerts took place at the Estonian House in New York City on May 14, at the New Jersey Latvian School in the morning of May 15, in the facilities of the Philadelphia Latvian Church in the evening of May 15, and in Priedaine on May 16. After each concert the audience joined the performers for joint singing.
Even though the Association of Latvian Organizations of Minnesota supported the tour with a grant of $1,500 and each of the three concerts yielded $1,000, the receipts of the tour did not quite cover expenses.

Laila Robiņa
Exceptional Young Artists Fund
The Exceptional Young Artists Fund, under the leadership of Laila Robiņa and with the participation of Baiba Pinne and Anna Kepe (Anna in 2009 replaced Jānis Cigūzis), in 2010 made grants with total value of $5,000 to the following young artists:
In 2009 the Fund received a total of $650.  TILTS values very highly the support the contributors are providing to the exceptional young artists as well as the trust they have demonstrated in TILTS's administration of the funds. In its lifetime, the Exceptional Young Artists Fund has awarded a total of over $150,000 to over 30 young artists.
The Fund makes awards only from contributions donated specifically to this Fund. Contributions to the Fund can be made by sending a check, written to "Latvian Cultural Association TILTS, Inc.", to TILTS, c/o Laila Robins, 241 Central Park West Apt. 14H, New York, NY 10024.
Presentations
TILTS arranged two lectures in 2010 (Ģirts Zeidenbergs):
On January 28, film director EdvĪns Šņore showed his movie "The Soviet Story" at the Philadelphia Free Letts Society and reviewed how it was produced. He also told about the help European Parliament members Ināra Vaidere and Ģirts Kristovskis provided to get ES financial support for its production.
Political analyst Ivars Ījabs gave presentations on "Latvia Before the Election of the 10th Saeima" at the Los Angeles Latvian House and the Philadelphia Free Letts Society.
Gathering in Latvia
To facilitate interaction with and among people who have moved to Latvia from the West, particularly among the members of TILTS, on June 27, 2010 TILTS arranged a gathering of Latvians of the world at the Čarlestons Restaurant in Rīga. Ingmārs Čaklais, the head of the Riga Latvian Society, gave an overview of the activities of the Society.
The meeting was organized by Ģirts Zeidenbergs with the help from board member's Edvīns Kalviņš company "Tehniskie Partneri".  Among attendees were people from the USA, Australia, Canada, France, Italy Germany, Sweden and Latvia.
Immediately after the gathering 40 attendees had the unique opportunity to watch the play "Mrs. Benjāmiņa, how a modern person should live". The show took place in the original house of Mrs. Benjāmiņa, and was very much appreciated.
To continue this tradition, a similar meeting is planned for June 26, 2011 12:00 noon to 3:00 PM, same place. There will be buffet type food, admission will be around 15 lats. Uldis Grava has agreed to review the current status of the changes considered in the law allowing double citizenship. The facilities have a strict limit of 150 seats, and therefore timely registration is advisable with the following: Ģirts Zeidenbergs, girtszeidenbergs@comcast.net, or girtszeidenbergs@gmail.com, Skype: 'girtszeidenbergs33'; Astrīda Jansone, 371 6729 7157; or Velga Kalniņa velgakalnina@gmail.com.
Support
In 2010 TILTS board awarded a total of $3,300 as follows (this does not include awards by the Exceptional Young Artists Fund nor by the History Projects Fund):
$500.00   to the Latvian Music Information Center for the distribution of catalogues of Latvian symphonic music to foreign libraries, radio stations and performing artists.
$1,000.00   to the Latvieši Pasaulē museum and research center.
$1,000.00   to the School of Skujiene. This was a continuation of the TILTS School Support program, which now has been discontinued.
$300.00   to the National Flute Association for the premiere performance of Pēteris Vasks composition.
$100.00 2x2 stipend to Anna Bērziņa.
$100.00 2x2 stipend to Māra Bērziņa.
$100.00 2x2 stipend to Nikolajs Batarags.
$200.00   to Dzintra Erliha for the piano recordings of the songs of Lūcija Garūta. Both CDs, which were released in 2011 - L.Garūta Kvēlot, liesmot, sadegt un veltījums Tālivaldim Ķeniņam, Tilts pār jūrām / The bridge across the seas, have been nominated for the award of the top five 2010 recordings of Latvian music.
Other Events of 2010
Ints Dzelzgalvis and Mārtiņš Andersons represented TILTS at the 2010 ALA Congress. TILTS had 79 mandates.
Dace Aperāne and Baiba Pinne represented TILTS at the Council of New York Latvian Organizations. Both were elected to its board, and Baiba is its Chairwoman.
On April 10, 2010 TILTS held its annual membership meeting in Bedford, NY. A board meeting preceded and another followed the annual meeting. The membership elected 125 members to the board. Two former members did not seek reelection, but three new members were elected. The board elected the same officers, except that Juris Baidiņš will now serve as the chief Treasurer.
In three separate shipments TILTS sent books and periodicals collected from Latvian homes to the Latvian National Library in Riga. A total of 210 boxes, with a weight of 3,496 kg, was shipped through the Latvian American Shipping Line.
On the Subject of Theater Tours
TILTS did not organize any theater tours in 2010, as it could not make arrangements with any theater company from Latvia that would meet all of our requirements – not more that five performers with a suitable play and acceptable stage requirements.
Another problem with theater tours is financial – the income from a tour normally does not cover its expenses. One source of additional support is the Latvian Foundation, but our schedules do not match – the LF expects proposals for funding in March, with the membership voting on them in late summer and the results being announced in the fall. But in March we do not yet know, what ensemble and play we could possibly get for the next season!
In March of 2011 we requested LF funding for the 2011-2012 season without mentioning the play. We trust that the LF membership will be willing to vote for our request without knowing the specific play.
Events Planned for 2011 and 2012
The tour with "Kronis 2" took place in early 2011. See the preceding page (Marcis Voldiņš).
TILTS has arranged three concerts with the pianist and composer Pēteris Plakīdis un mezzo-soprano Laila Saliņa:  Cleveland Aprīl 29, Minneapolis May 1, and Priedaine May 7. The program will include works by Plakīdis and other Latvian composers (Dace Aperāne).
Gathering in Latvia of Latvians from the world will take place Riga in the restaurant Čarlstons on Sunday, June 26, 2011 from 12:00 noon to 3:00 PM with a buffet, admission around 15 lats. Since space is limited to 150 attendees, early reservations are recommended. See instructions on a preceding page.
In cooperation with the Association of Latvian Organizations of Minnesota (LOAM) and the Minnesota Latvian Concert Association (MLK), TILTS is helping to set up concerts by pianist Ēvalds Lazarevičs, the first recipient of Knuts Lesiņš Young Musician Award. Concerts are planned for September 2011 in Minneapolis, Milwaukee and Chicago (Dace Aperāne).
We are exploring the possibility of arranging a West Coast tour by the Minneapolis folklore group "Teiksma".
A theatre tour with an ensemble from Latvia is planned for the 2011-2012 season. Possibilities: "Vectēvs" with  Vilis Daudziņš or "Alus Cilvēks" with Ainārs Anšēvics  (Marcis Voldiņš).
In the fall of 2011 a tour by the folklore ensemble "Ilģi" is a possibility. It will be group's 30th anniversary (Benita Jaundāldere).
Ģirts Zeidenbergs will explore the possibility of arranging performances with Gunta Plostniece Christmas program.
We will find out if screening of the movies from Latvia "Nesalauztie", "Barikādes brīvībai" and "Krievijas mācību stunda" can be arranged  (Ģirts Zeidenbergs).
2010 Finances
The following table summarizes TILTS 2010 receipts and disbursements. These are funds that have actually been received and paid (cash basis).
The values in the table do not agree with the amounts listed in the earlier text for the following reasons:
The award amounts are often paid out in a subsequent year.
The transactions for income received and expenses paid do not necessarily take place in the same year as the tour.
All funds associated with a tour do not necessarily pass through TILTS; sometimes, in accordance with a previous agreement, the money that is due to TILTS for arranging the tour is paid by the local organizers directly to the performers to cover their expenses.

Juris Baidiņš
Membership
We plan most of our cultural events so that they would pay for themselves. This, however, is becoming more and more difficult, as most of our artists are from Latvia and the size of our audiences keeps shrinking. We also need contributions for our projects associated with support of education and other cultural activities.
Please help us carry out our programs and become a member of TILTS. Donations for TILTS membership start at $15.00.
Please make the check payable to "Latvian Cultural Association TILTS, Inc." and forward
in the USA to: Treasurer Juris  Baidins 104 Windon Drive, Wilmington, DE 19803
in Canada (in Canadian dollars) to:  Ivars Timbers, 1921 Poppy Lane Pickering, ONT L1V 2T4.
In the USA, donations to TILTS are tax-deductible. No TILTS board member receives any compensation for any of her/his services.
Thank You!
Pēters Vecrumba is our Webmaster – he designs the graphics for the TILTS web page

www.tilts.org

and updates its contents. Thank you, Pēters!
Thanks to all who have helped in the past and are helping now in mailing our annual report, particularly to Mudīte Prāmniece.
Thanks to TILTS Audit Committee, which is helping our treasurers Juris Baidiņš and Jānis Melgalvis take care of TILTS books:

Ervīns Kurēns
Andrejs Prāmnieks
Anita Shrēdere
With Gratitude, the Board of the Latvian Cultural Association TILTS
The TILTS board has 125 members, elected April 10, 2010:
88 USA, 33 Latvia, 3 Canada, 1 UK:
Līga Aldiņa
Mārtinš Andersons
Dace Štauvere Aperāne
Gundars Aperāns
Anita Štelmane Auzenberga
Juris Baidiņš
Valdis Bašēns
Raimonds Baumanis
Lilita Bergs
Pauls Berkolds
Klāvs Bērziņš
Laima Rita Bērziņš
Valdis Bērziņš
Jānis Bībelnieks
Varis Brasla
Aira Bungs
Sarma Cālīte
Ingrīda Cāzere
Jānis Cigusis
Anda Cook
Ints Dzelzgalvis
Rolfs Ekmanis
Emīls Elstiņš
Ingrīda Erdmanis
Līga Tālberga Gonzalez
Iveta Grava
Rūta Grava
Silvija Griffin
Daina Gross
Ilze Gulēna
Gunta Harvey
Maija Veinberga Hinkle
Ilze Ievāne
Aina Irbe
Edīte Mūrniece Irbe
Iveta Ivansone
Astrīda Jansone
Sonja Jansone
Amanda Jātniece
Benita Jaundāldere
Līga Jēkabsone
Velga Kalniņa
Edvīns Kalviņš
Maruta Kārklis
Lauma Upelniece Katis
Aivars Keire
Anna Kepe
Uldis Klauss
Zaiga Voldiņa Klīmane
Jānis Kramēns
Daila Krastiņa
Laris Krēsliņš
Matīss Kukainis
Andrejs Lazda
Ingrīda Lēvenšteins
Anita Liepiņa
Vizma Maksiņa
Haralds Mazzariņš
Maija Medne
Jānis Melgalvis
Imants Mežaraups
Ilmārs Mežs
Janta Mežs
Ingrīda Muižniece
Guna Mundheim
Māra Newsomne-Sātiņa
Ēriks Niedrītis
Vita Grolle Ozoliņa
Gunārs Ozols
Andris Padegs
Dzintars Paegle
Viesturs Paegle
Māra Pelēce
Ilze Pētersone
Zaiga Alksne Phillips
Baiba Pinne
Marģers Pinnis
Zinta Pone
Maija Priede
Malda Pūtelis
Uldis Raiskums
Pauls Raudseps
Ināra Reinis
Andris Ritums
Laila Michelsone Robiņa
Jānis Robiņš
Anna čakste Rollins
Andris Runka
Anna Rūtiņa
Inta Rūtiņa
Normunds Rutulis
Sandra Sebris
Aija Sedlak
Gunta Puzule Semba
Laimonis Siliņš
Gaida Skulte
Pēteris Skulte
Raimonds Slaidiņš Jr.
Sandra Padega Slokenberga
Inta Šrādere
Ruta Krūze Strobele
Jānis Students
Māris Stūrāns
Ivars Timbers
Una Tone
Māra Tupese
Tupešu Jānis
Rita Gāle Uibo
Juris Ulmanis
Mudīte Upatniece
Ināra Dermane Vehvilainen
Normunds Vīksne
Valdis Viņķelis
Marcis Voldiņš
Katrīne Čakste Wilson
Ruta Zadziorska
Maija Zaeska
Diāna Dumpe Zaķis
Mārtiņš Zandbergs
Pēteris Zariņš
Ģirts Zeidenbergs
Māra Zemdega
Astra Pētersone Zemzare
Kristīne Zosule
Kārlis Zvejnieks

This review in Latvian and English has been prepared by Andris Padegs.